Day 4 of fashion week is when things really start to heat up, with all the hottest designers coming out to play. It must have been a jam-packed day for the New York Fashion Week attendee, as they had the likes of DKNY, Victoria Beckham, Zac Posen, Derek Lam and Diane von Furstenberg (among countless others) to head to. 
With Ashley Greene naturally sitting front row, the DKNY show kicked off with a bang, showcasing some gorgeous autumnal outerwear designs that we know all the A-listers will be rocking when there's a chill in the New York air. We don't think a brand is more proud of its Big Apple heritage than DKNY, which was made very apparent during the show courtesy of the yellow taxi backdrop.
Diane von Furstenberg said "to hell" with autumn and injected copious amounts of colour into her collection. There was bright colour blocking aplenty, with the looks being completed with leather gloves of all shapes, textures and sizes. Madonna would be in heaven!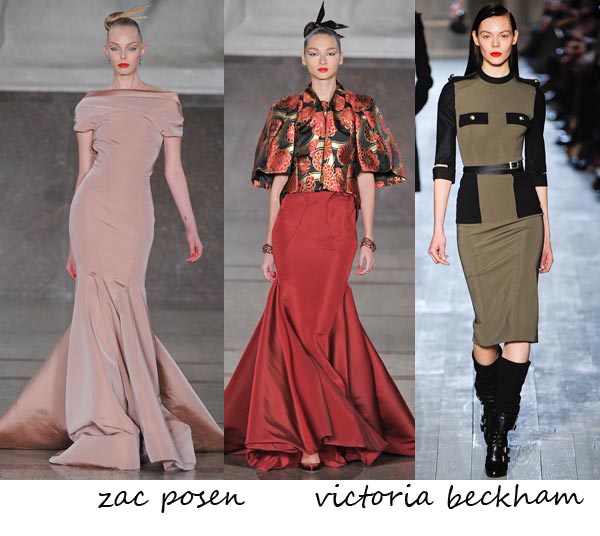 We loved the hair and make-up at Derek Lam which worked well with the predominantly monochrome designs. The autumn/winter 2012 collection was an instantly wearable one, with the coats in particular proving particularly delicious.
We swooned and sighed and swooned some more when we saw Zac Posen's collection… so many red carpet-worthy dresses – we can totally see the likes of Meryl Streep, Reese Witherspoon, Anne Hathaway and Sofia Vergara rocking some of these gowns. In a word: stunning!
After a brief spell experimenting with looser silhouettes, Victoria Beckham's designs went back to their form-fitting selves by way of sleek, sexy and tight pieces. Most of them came in muted colours (browns, dirty greens and blacks) with many military-inspired infusions. She never lets us down, does Victoria!