Last Updated on 17th September 2012
We're not the only ones who have been keeping busy these past few days. While we were tent-hopping at Somerset House for London Fashion Week, style Queen Kate Middleton was churning out fab look after fab look as she and Prince William continued their Diamond Jubilee Tour.
The Duchess of Cambridge presented us with some wow-worthy looks these past few days, so here's a brief rundown just in case you missed them:
Kate wore a custom Sarah Burton for Alexander McQueen gold and white gown for a State Dinner in Malaysia that made her look the epitome of Royalty. As you can see form the pic below, there really isn't a bad word to say about the look so let's move on.
When the Duke and Duchess greeted fans in Malaysia, Kate wore a dress from  another one of her face designers, Beulah London. Again, the word "flawless" springs to mind!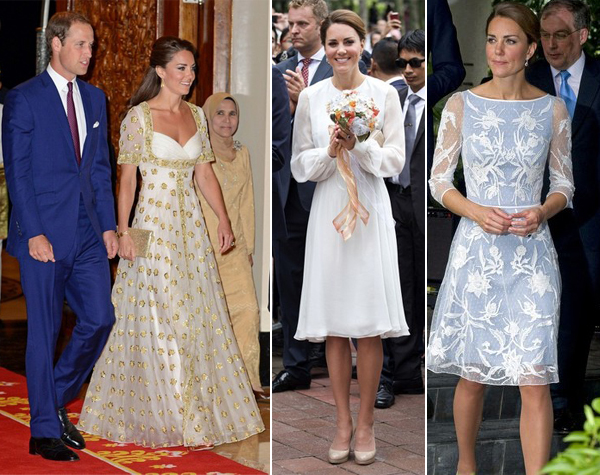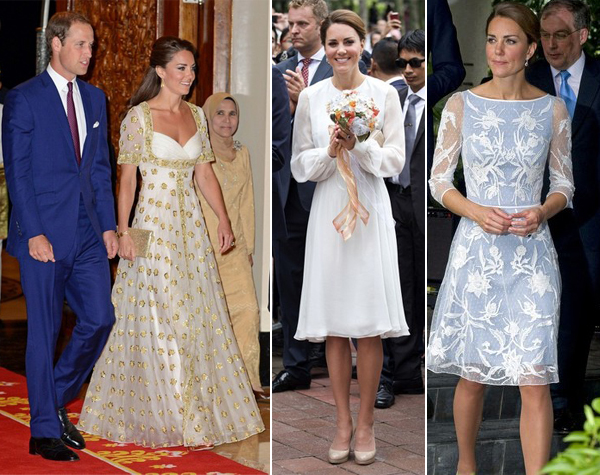 Akin to the spring/summer 2013 collection which we saw for ourselves yesterday, Kate's Temperley dress was pale blue, lacy and gorgeously feminine. So pretty much the Duchess in a nutshell!
We see a recurring theme as far as Kate's barnet is concerned – gone is her flowing, sleek, straight with a subtle curl traditional hairstyle, and chic chignons and general updos are in its place. Dressing for the hot weather to avoid the frizz – we like it!
The blue Evelyn dress by Jonathan Saunders reverts back to Kate's signature style, and she rocked it with ease as predicted. We love the hat too!
One outfit which was unpredictable however, was the pink printed dress right below. Reports are claiming that Kate had planned to wear a different outfit for a banquet, but instead decided to go for the pink one from a shop called Island Print as it was left for her in her hotel. Aww – kind of sweet, no?!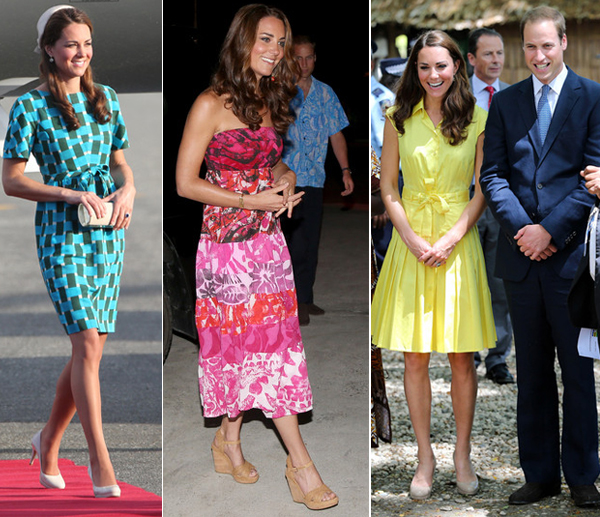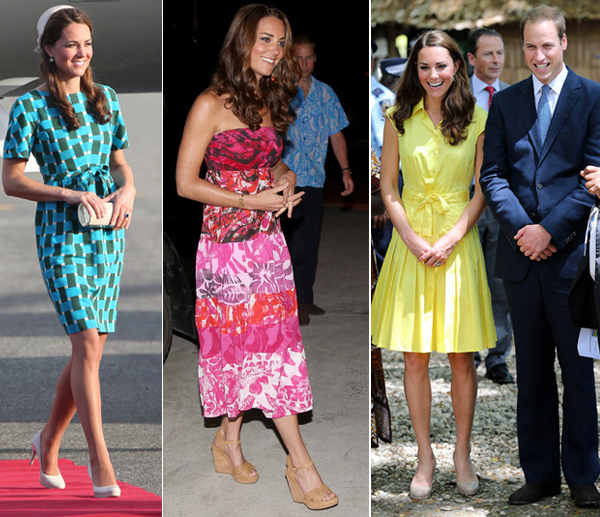 Finally, the most recent outfit Kate has been snapped in has been a bright yellow creation from good old Jaeger. And it's nice to see her long, flowing locks are back… a winning formula if ever there was one!
Which of these Kate Middleton looks is your favourite? Tough choice, we know!