Last Updated on 28th October 2013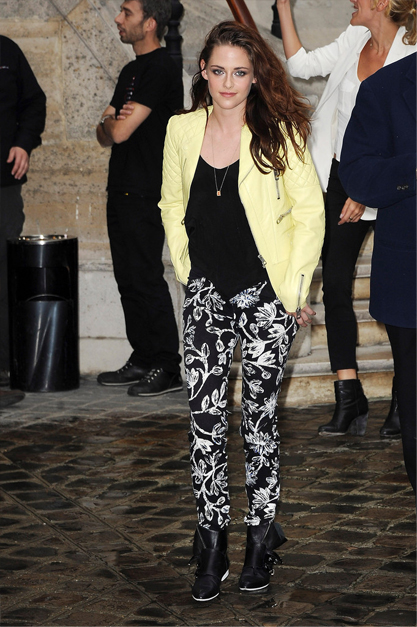 She's wearing a light, summery colour and was even photographed with a subtle smile… does this mean things with Kristen Stewart and Robert Pattinson are back on track?
Relationship speculation out the way, let's talk about K-Stew's actual outfit as she arrived at the Balenciaga show in Paris to take her front row seat!
Obviously the Twilight actress was kitted out in head-to-toe Balenciaga (be a bit cheeky if she wasn't, no?), and while we thought she might go for something darker and more boyish, we were pleasantly surprised to discover that she wore something printed, colourful and feminine.
Even though Kristen went for a light yellow jacket and floral trousers, she gave the ensemble her signature edge by adding chunky leather boots as opposed to something more delicate. We all know how attached she is to her Converse, so let's be thankful that she didn't crack them out!
We can't flaw her make-up either, and we like how she stuck to her trademark hairstyle too. We don't like it when the celebs try too hard to the point of being unrecognisable, so we're glad there was still some of the old Kristen there!