Last Updated on 18th October 2012
We love a bit of customisation; we do it with scarves, jewellery and phones among other things, so why should headphones be any different?
They're an integral part of our outfits every morning and evening as we attach them to our iPods to try and drown out the sound of disgruntled commuters, so the idea to customise a pair how you want them is utter genius. Enter Skullcandy!
Skullcandy has been around for ages and is one of the most respectable names in the biz, so we knew we were onto a winner when we learnt it was offering a new 'Aviator Edit' service whereby you can design and revamp your own pair just the way you want them!
If you fancied yourself as a bit of a designer then we definitely recommend heading to the website and having a play around to try and come up with your favourite combination.
(I decided to go for a pink pair to contrast with my red hair; I also gave the earphones chrome rings (so shiny!!!) and a pink wire to top it all off… may as well, when in Rome etc!)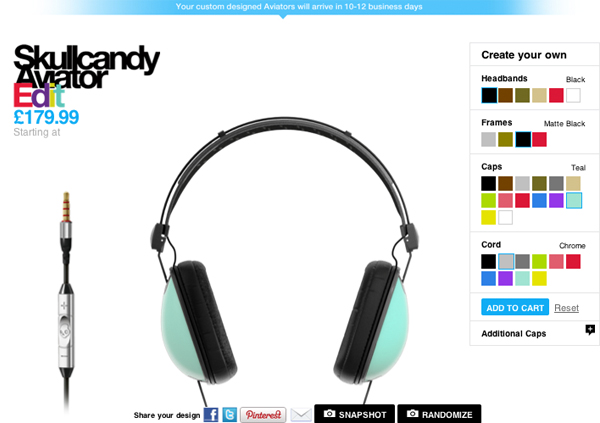 It's quite addictive, and if you can't decide which epic colour combo to go for, then you can always snap a pic of it with the 'snapshot' button and send it to your friends to vote for their fave to help you make your mind up. Click here to have a go yourself!
Ps: these don't just look pretty, the sound quality is out of this world!