Last Updated on 19th October 2013
Jeans are the ultimate wardrobe staple, worn with almost everything we own. Yet we still choose to exclude them when planning a party outfit, opting instead for tailored trousers or skirts and dresses.
These usual culprits for evening wear can get a little boring, and this is why your wardrobe needs a little style refresher with an injection of good old denim!
Styling jeans for an evening look isn't as difficult or casual as you may think. Just like a biker can add a tough luxe feel to summer style, boots can take most of your summer wardrobe into autumn and a printed suit can be 'da bomb' (pardon the laidback lingo) outside of the boardroom; when worn in the right way, jeans will fast become the foundation for your after hours style.
The key to getting it right is to make a statement accessory the focal point of your look, and build the rest of your look around it. Printed jeans add interest and are a major trend to covet right now.
To help make taking the denim plunge at your next party a little easier, we've styled a must have pair of jeans in 3 ways to give you varied and super-glam evening looks. Take your pick and party away!
Look 1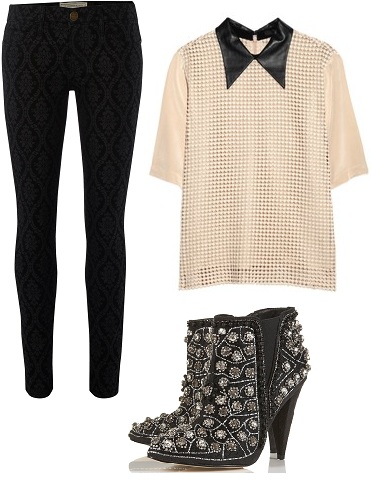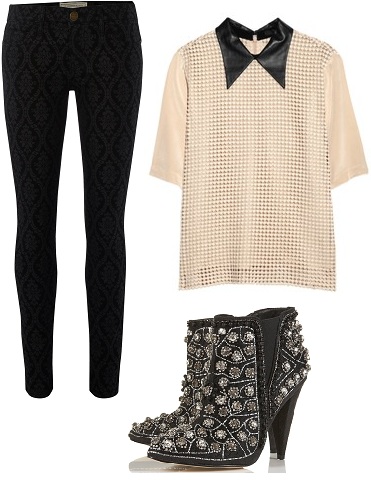 Current/Elliott The Ankle skinny jeans – black brocade (shown throughout), £195, available at Donna Ida; Tibi Leather-collared silk-crepe shirt, £405, available at Net-A-Porter; Avant all-over embellished boots, £120, available at Topshop.
Look 2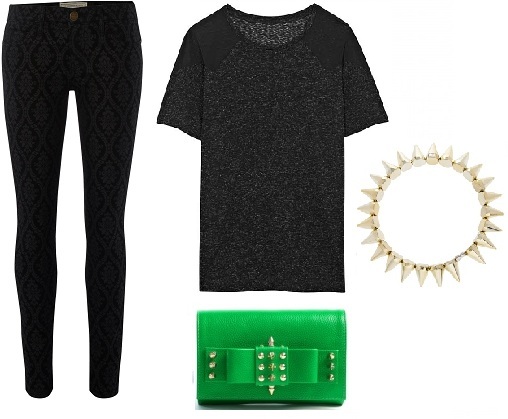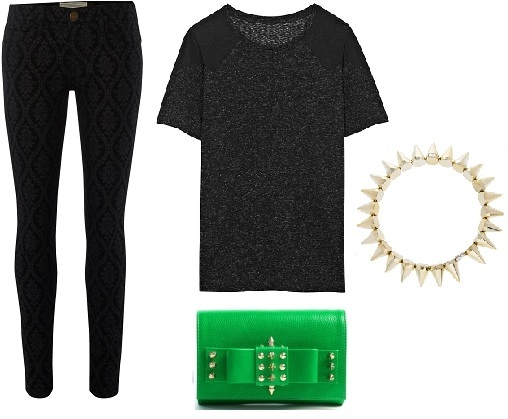 Jeans (as above); Henrietta contrast fabric t-shirt, £55, available at Reiss; Limited Edition spike choker necklace, £25, available at Asos; Aila Green Palm spike clutch, £230, available at My Wardrobe.
Look 3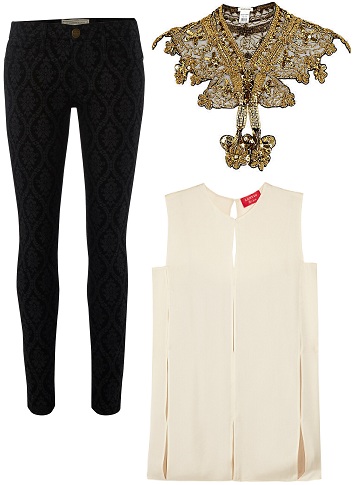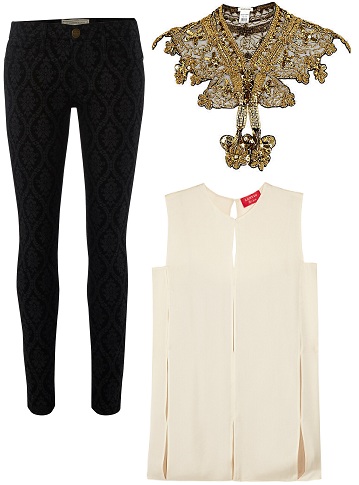 Jeans (as above); Lanvin Slit-detailed silk-satin top, £589.75, available at The Outnet; Gold luxury embellished collar, £28, available at River Island.