Freida Pinto vs Lea M in Valentino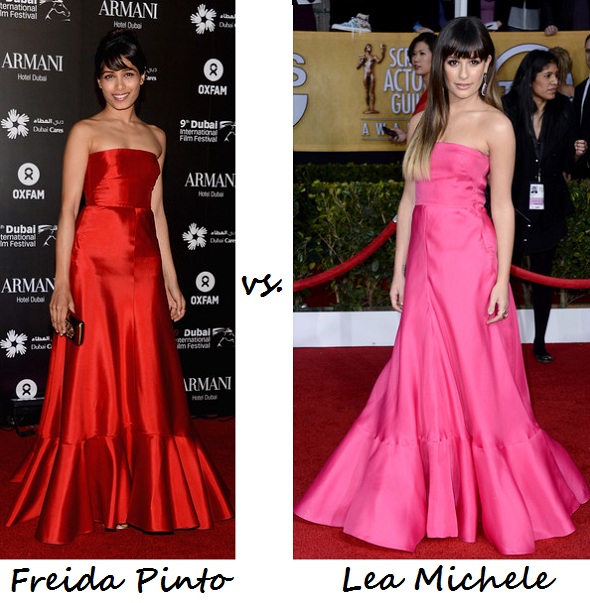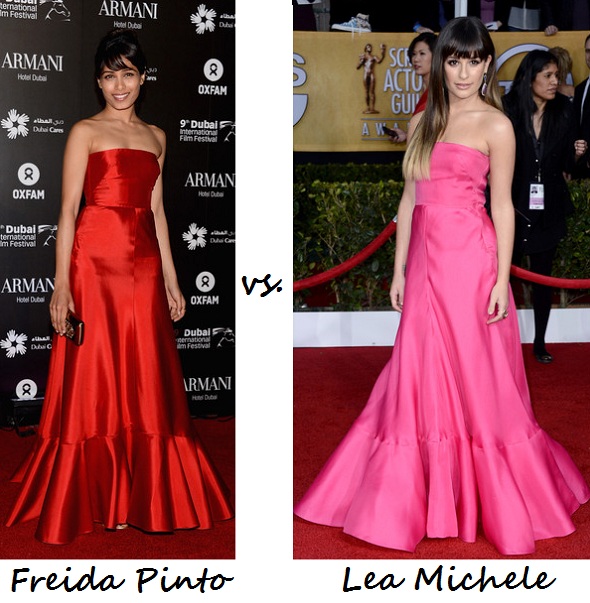 For us, Valentino is a major fashion crush, and when two of Hollywood's leading ladies battled it out in a rather stunning creation by said designer, a fash-off was inevitable.
Making her mark as the Lady in Red at the Dubai Cares and Oxfam 'One Night Lives' Charity Gala, Freida Pinto looked remarkable in a vintage version of the gorgeous strapless gown.
Opting for swept back hair and accessorising with only a Roger Vivier 'Boite de Nuit' clutch, Freida's look is on point for such a jaw dropping dress; over-accessorising would kill that old school glamour look this gown exudes. Beautiful!
You'd be crazy not to recreate a classic Hollywood look for the next generation of red carpet striders, and, Valentino being the savvy fashion house it is (no one does glam rock better), Lea Michele was spotted in a similar style gown to Freida's from the Resort 2013 collection at the 2013 SAG Awards.
Rocking a hot shade of fuschia, Lea opted to keep her sleek tresses down and accessorised with nothing more than a cocktail ring and drop earrings. Again, perfectly under-accessorised, because, well, the gown pretty much does all the shouting!
So, who's Valentino look vies for your attention? Freida's sensuous red, or does Lea's vibrant and modern fuschia pink tug at your heart strings? Well, considering we're cooing over old school Hollywood glamour, Freida's look agrees with us, and swept back air is the way to go if you want to channel the charm of Hollywood's bygone glitterati.
Whose look do you prefer?