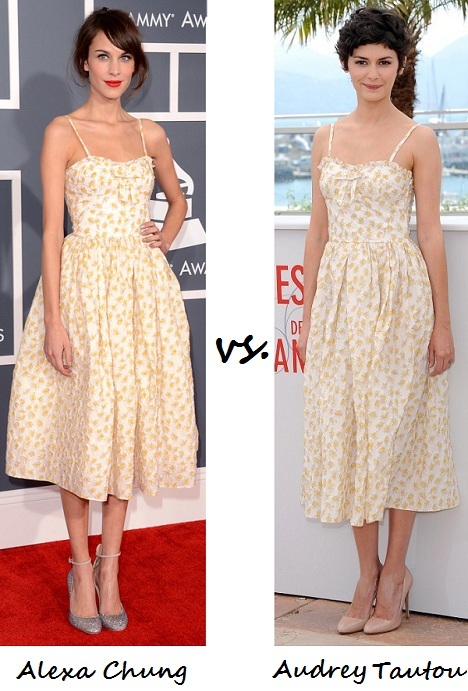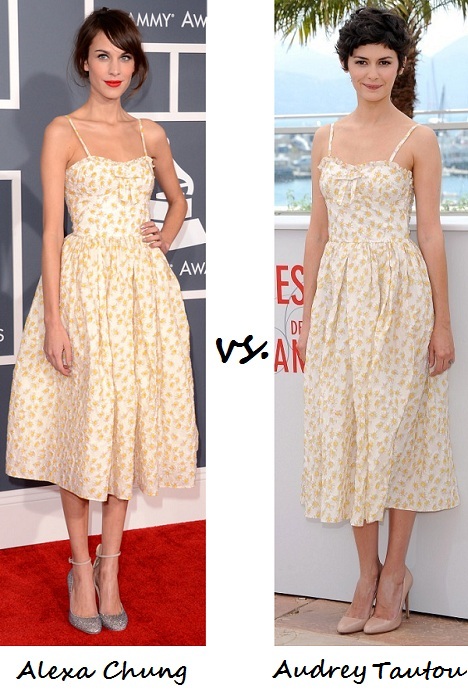 For this week's fash-off, two beauties from either side of the Channel bring their A-game to rightfully take their place under the style spotlight.
Brit beauty, Alexa Chung, and our favourite 'Coco Chanel' this side of the 21st century, Audrey Tautou both wore the same Valentino number, albeit  a few months apart.
Alexa was the first to take to the red carpet in the pretty tea-length dress at the 2013 Grammy Awards, back in February. Sporting her signature, popping red lips and wispy, swept back locks, Alexa finished off her look with ankle strap crystal pumps, also by Valentino.
Second in line to slip into the dress was French beauty Audrey Tautou, who injected a copious dose of gamine charm into the opening photo call for Cannes 2013. Bestowed with the duty of mistress of ceremonies at both the opening and closing of Cannes 2013, Audrey sure took her role seriously in the fashion department, pairing the tea-dress with nude pumps and going virtually makeup free.
But who takes the honourable title of fash-off champ? Both ladies went sans accessories, and put their own slant on the dress, but the overall look was a definitively girly one.
Although we're struggling to decide, we'll have to give this one to Alexa, simply for jazzing up the entire outfit with crystals on her feet and a red pout. The dress is quite a subtle colour, so needs a little lift, and Alexa's styling does just that. Audrey's look, on the other hand, was saccharine sweet but a little too washed out for liking.
Do you agree with our fash-off verdict?