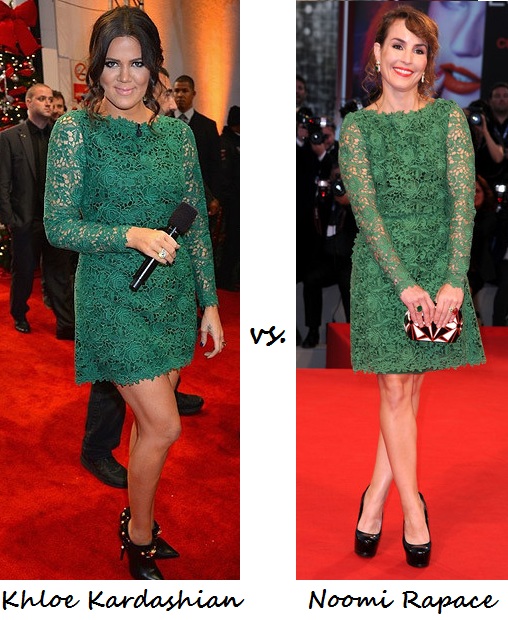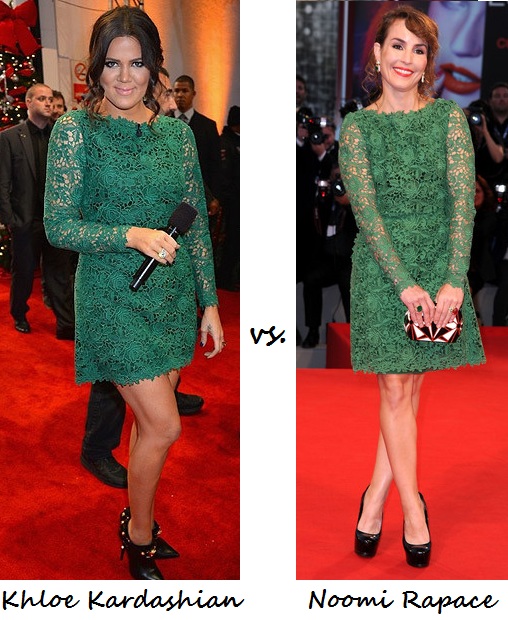 Valentino dresses are the stuff of dreams, and that's why we get super-excited when doing a little celeb-spotting in said designer's wares!
The Girl With The Dragon Tattoo star Noomi Rapace and Khloe Kardashian made an appearance in the same Valentino lace dress, albeit to two very different events.
Noomi was the first to don the stunning emerald green dress with a cut-out back at the Venice Film Festival, back in September. Looking gorgeous on the red carpet, Noomi accessorised with black platform pumps, a geometric design clutch, small cocktail earrings and a strong red lip.
One third of the Kardashian sister trio, Khloe opted for the same Valentino dress (one of her three outfits of the evening!) for the America X Factor season finale. Sporting a kick-ass tan, Khloe paired the dress with gold hardware, pointed ankle boots and added a leather and metal waisted belt to the mix. Opting for nude makeup and the biggest rock imaginable on her finger, Khloe wore her hair in an updo with wispy tendrils for a softer look
So, to decide who wore Valentino best is a difficult task, as every creation to come out of the design house's atelier leaves us in state of breathlessness! But there can only be one fash-off champion, and this week that accolade goes to…Khloe K!
Valentino is renowned for mixing elegance with a healthy dose of sexy (one look at the luxe Rockstud collection and you'll figure that mix out) and Khloe's take on this pretty dress measures up to that fashion philosophy perfectly. Noomi, too, looks amazing, but a bit too red-carpet vanilla for our liking, unlike Khloe, who brought her own to the X Factor red carpet!
Agree with our fash-off verdict? Whose look do you prefer?