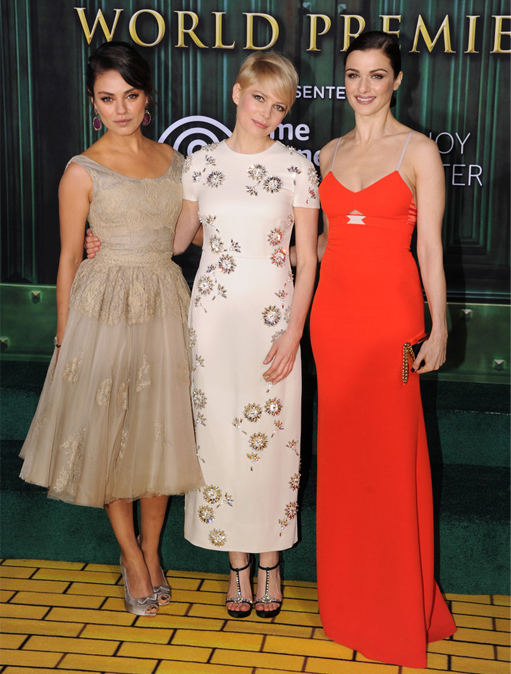 Mila Kunis, Michelle Williams and Rachel Weisz, ie the three leading ladies in the Wizard of Oz prequel Oz the Great and Powerful,each looked positively radiant at the Hollywood premiere of their film last night. They went for different looks as far as their outfit choices were concerned, but all three ladies were sartorially triumphant on the red carpet – which incidentally was a very apt yellow brick road!
Mila Kunis went for the romantic, fairy-tale approach by rocking up in a lace Dolce and Gabbana number. There's something very fantastical about it, and we think it's the perfect choice given the nature of the movie. It might have been a tad OTT if it was full-length, so Mila and her stylist get extra points for picking the perfect length and making it contemporary and occasion-appropriate. We're loving those bejewelled earrings too!
Rachel Weisz rocked the simple, sleek and sexy look, in a gorgeous orange Victoria Beckham dress which complemented her stunning body and skin-tone perfectly. No complaints, there!
Last but certainly not least, Michelle Williams went for a white Prada dress, which is very apt considering she plays Glinda the good witch in the film. Again, she could have opted for something in the romantic, frilly and sugary-sweet department, but went for the fashion-forward and modern approach instead. We approve – we approve a lot!
Well played ladies – you all looked magical!