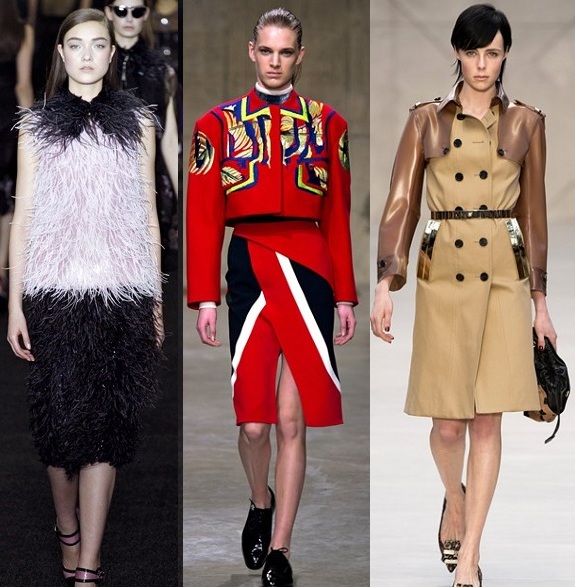 It;s nearing the end of yet another eventful and outstanding season at London Fashion Week, and we couldn't be more excited about the offerings for next season! But as the saying goes, the best is usually saved till last, and so it was onto day 4 of the fash week schedule.
Big shot fashion names were on the schedule for day 4, including Tom Ford (gush!), Erdem and Christopher Kane, and we couldn't be more pleased with what these geniuses put before our eyes for next season!
From Burberry to Peter Pilotto, packed with the most exciting names in fashion and the most anticipated shows in the Fashion Month calendar, here are all the highlights you need from day 4 of London Fashion Week:
Burberry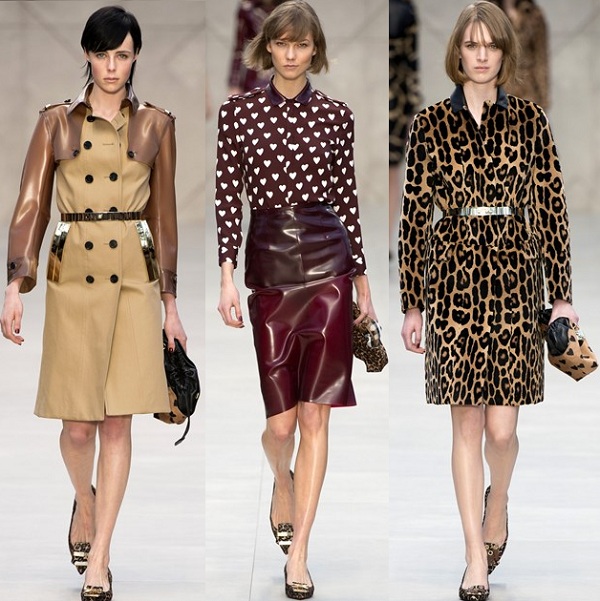 With Tom Odell serenading show attendees at the catwalk entrance, this show was only set to be on thing: the greatest. Every season, Burberry is the most buzzed about show, attracting a stellar frow (Rita Ora, Tinine Tempah and Kate Beckinsale were all in attendance). And for autumn/winter 2013-14, the fashion crowd was left just a positively dumbstruck.  Last season's fizzy metallics turned glossy and grown up this season, as honeyed caramel trench coats and translucent pencil skirts mixed with skilfully subdued leopard print; a cute heart print on a collared shirt and dress broke the rules, whilst the emphasis on luxe animal prints accented with hard details made this collection a whole lot of fun.
Christopher Kane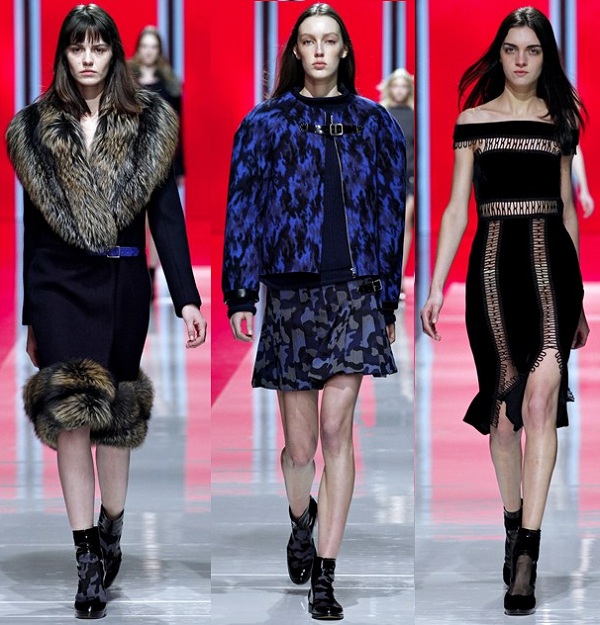 Colour-pop belted buckles; fur-wrapped shoulders and a heavy dose of Kane's charm made for an eye-pleasing collection. For autumn/winter 2013-14, Christopher Kane – with his PPR gold star badge pinned proudly to his chest – brought us camo print in its most desirable form, and ensured pleated minis and centre-slit skirts tugged at our heart strings. Packed with Kane's signature bare midriffs; we were also treated to a range of embellishments and textures, including feathers, fur, luxe knits and, strangely enough, brain motifs, which Kane took inspiration from after seeing the pattern they formed in an MRI scan. A brilliantly executed collection that has cemented Kane's status as the Golden Child of fashion.
Peter Pilotto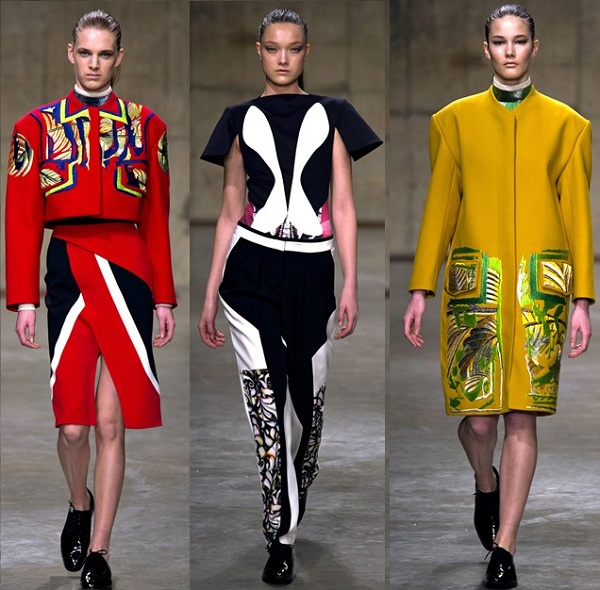 Peter Pilotto and Christopher Vos put on another spectacular, print-laden show, this time seeking inspiration from Spanish renaissance artists for autumn/winter 2013-14. Setting aside the tropical flamboyance usually associated with their prints, the duo sought a darker form of art on clothes, by emblazoning thick brush stroke like embroidery across boxy bolero jackets, mannish coats and centre slit, inverted hem skirts (which have been quite a trend this season at LFW). Working with a darker, moodier palette, with shots of red and yellow worked artfully into the ever-present signature print; this collection was an even stronger representation of just how far Peter Pilotto has come.
 Tom Ford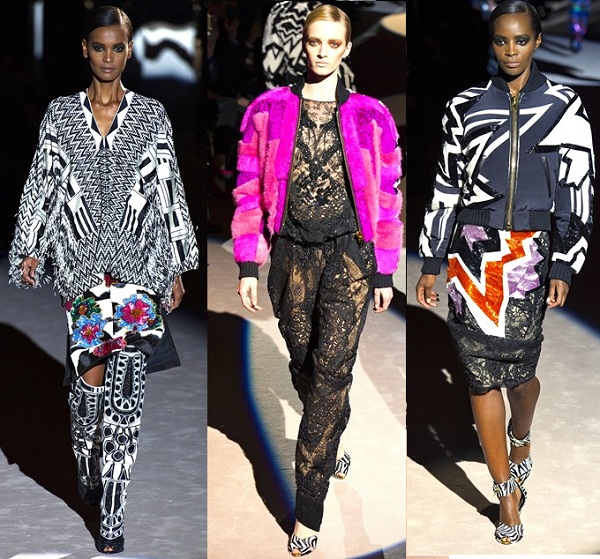 If it ain't dripping in luxury, it ain't Tom Ford. Pure gloss is promised where Mr. Ford is concerned, and hosting his first on-schedule London Fashion Week show at one of London's most glam locations, Lancaster House (complete with handsome and impeccably dressed waiters serving champagne), it was naturally going to be a true-to-Tom Ford style, look-at-me fest. Print and colour reigned supreme, as a furry neon bomber jacket sat atop an exquisite lace top and trouser combo; sequin embellishments clashed heavily with kapow-style prints and uber-luxe leopard print was artfully mixed with monochrome. The Tom Ford autumn/winter girl wears luxury everyday, so it's not surprising this collection dripped with glamour, but in a very wearable way.
Erdem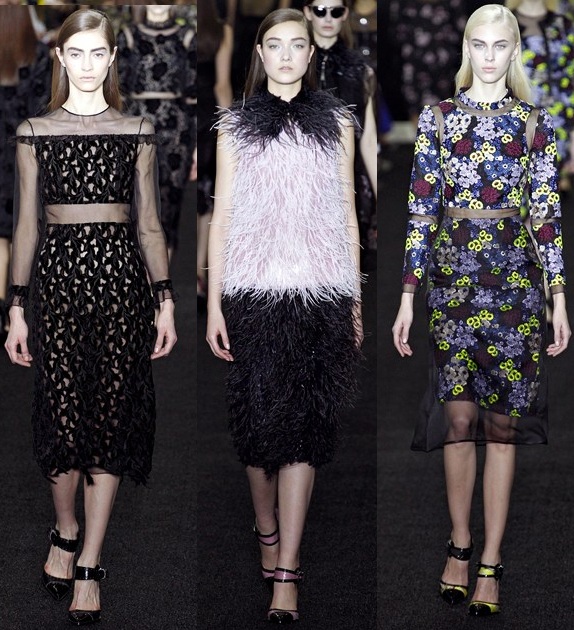 Know for his love of all things ladylike and pretty, Erdem's mainly black offering for autumn/winter 2013-14 did come as a bit of a surprise. All the feminine staples were there; the prim skirts, nipped-at-the-waist dresses and soft-shouldered, Sixties-inspired coats, but this time punctuated with black embellishment in the form of sequins and feathers. Sheer panels added a touch of sexy, whilst the playfulness of feathers and bursts of bright colour made the collection fun, without being garish.
[Images: Vogue.com]