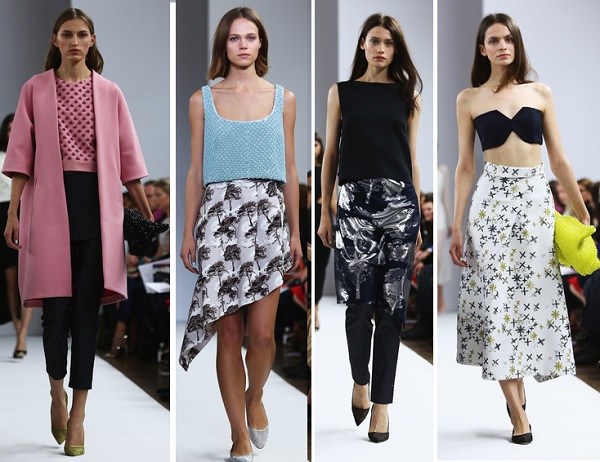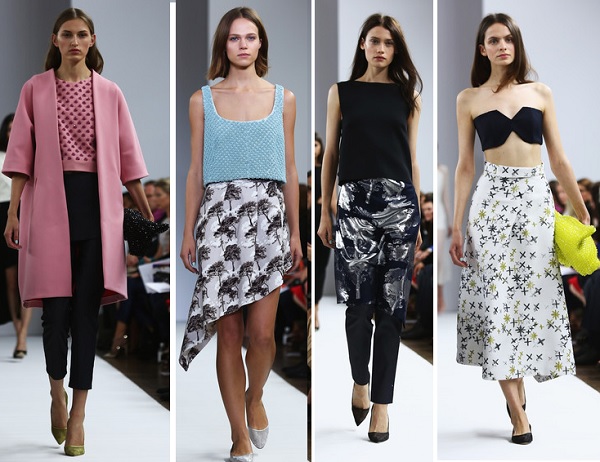 Taking a more summer appropriate (natch) approach for spring/summer 14, the vivid pinks and limes of last year were watered down to pretty pastels, with flashes of dainty embellishment. Skirts were sometimes gauzy, cut asymmetrically to produce a floaty effect that made the fabric appear like it slid away from the body. Voluminous coats, surprisingly, are a key piece for next season, given their not so climate appropriate use in summer (well, it is Britain after all), and a three-quarter sleeved candy pink number worn over black trousers won us over. Not so much a winner: the skirt-over-trousers look – it's far too don't-wanna-go-there Nineties for us!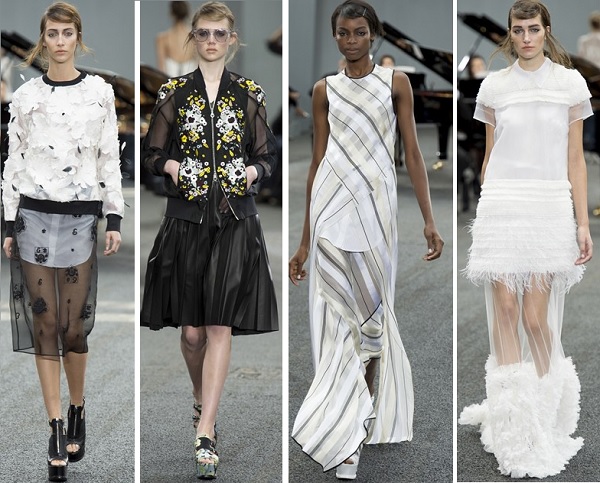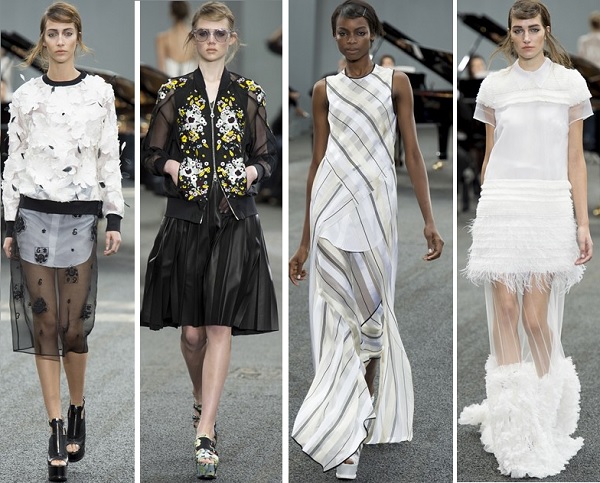 Always a show season biggie, Erdem's tougher stance on the runway was welcomed with opened arms. After enticing us with zingy neons, expertly combined with fragile lace for spring/summer 2013, this time around, he took us on a monochrome adventure. Still working his famed ladylike wearability into this high impact collection, Mr. Moraliaglu gave us sheer skirts sat pretty atop couture-level sweatshirts; a come hither black lace gown was made more wearable over a crisp white shirt, and neat collar and pocket details brought a somewhat masculine edge to his work. Shoes remain major, however – a far cry from the kind of dainty strap sandal you'd wear with an Erdem number: think rebelliously chunky platform soles made interesting with splashes of bold print.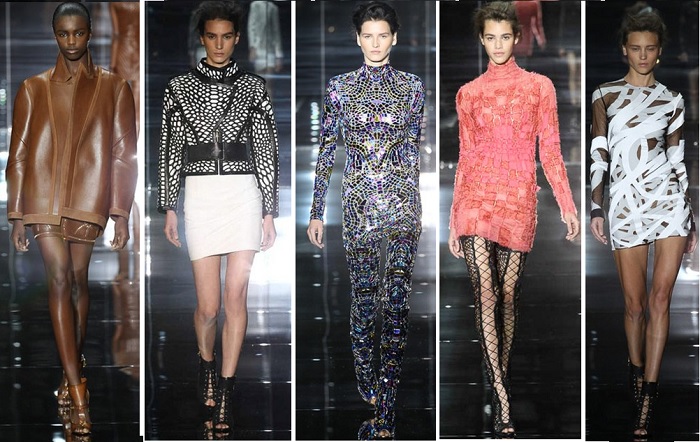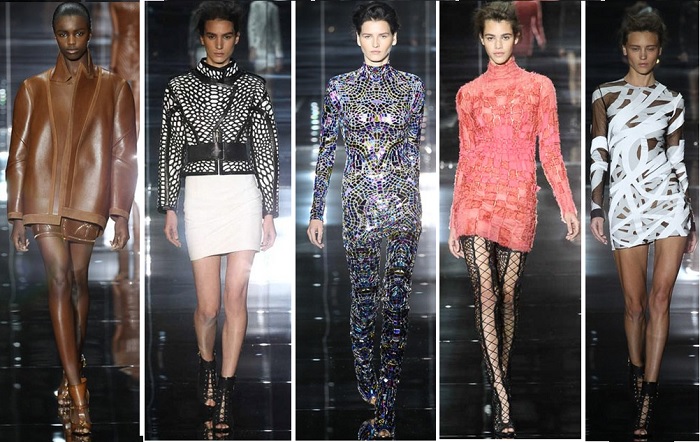 High octane as always, Tom Ford's show was, possibly, the hottest ticket of the fashion month schedule this side of the Atlantic, making the hearts of several editors beat faster than they do on deadline day. A lesson in indulgence it was, as Mr. Tom Ford set about presenting the most luxurious of oversized leathers in burnt caramel; a sexed-up, thigh skimming dress dripping in mosaic-like embellishment was ever so slightly tamed with peep toe boots that extended well above the knee, and, let's not forget Ford's signature lace-up heels. Without submitting to any seasonal trends, Tom did Tom; over-indulgent, to perfection, leaving "wow" as the choice of word to roll of the tongues of onlookers, quite possibly, in a state of breathlessness.
Natasha Zinko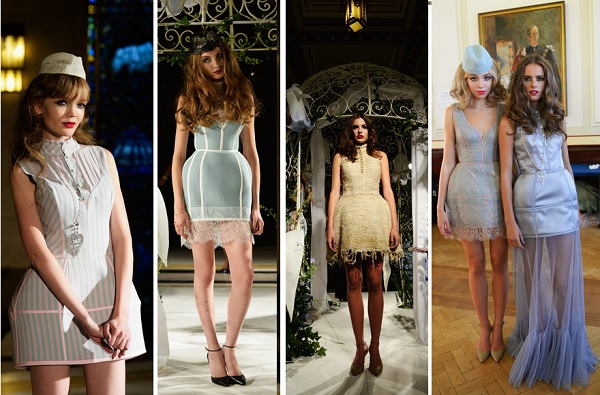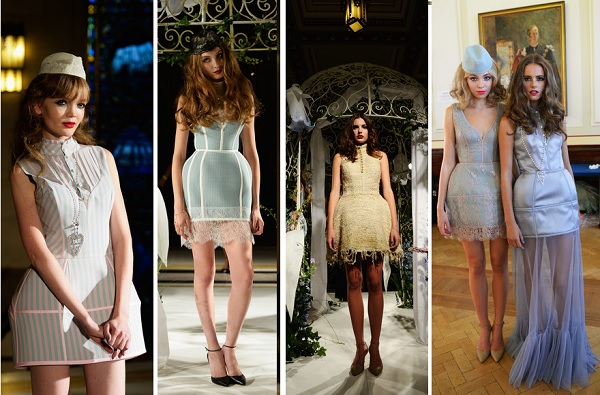 As the eager press pack huddled around the secret garden cage setting for CSM graduate Natasha Zinko's spring/summer 2014 collection in Freemasons' Hall, the heady magical feeling of her clothes was already receiving coos of affection and approval from the industry's most noted. With style doyennes Miroslava Duma and Christine Centenera stopping by to show their support, Natasha's collection received the rave reception it deserved.
Talking to My Fashion Life exclusively, about her inspiration for next season, Natasha said: "I looked to the beautiful Bell flower, found commonly in my homeland of Russia, and wanted to create a collection reflecting its beauty." True to her vision, bell-like shapes were apparent throughout, as dresses were shapely at the hips, crafted from in shades of muted violet; duck egg blue and gold-washed cream. Black lace trims toughened up prim dresses, and to top it off, quite literally, lace-wrapped hats that resembled shrunken Ushankas, without the fur and flaps, made for perfect accessories.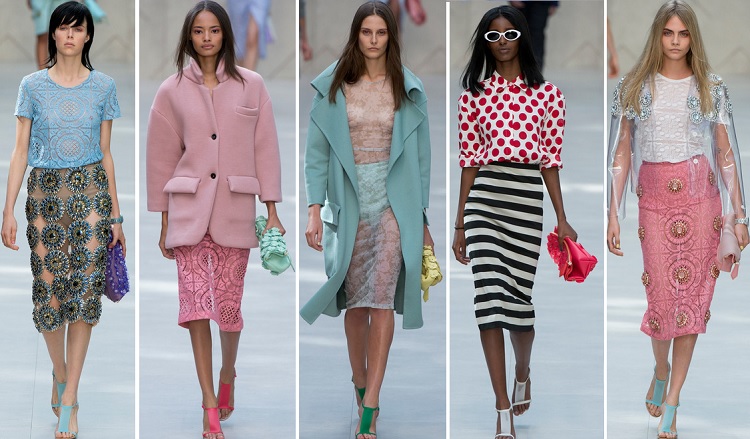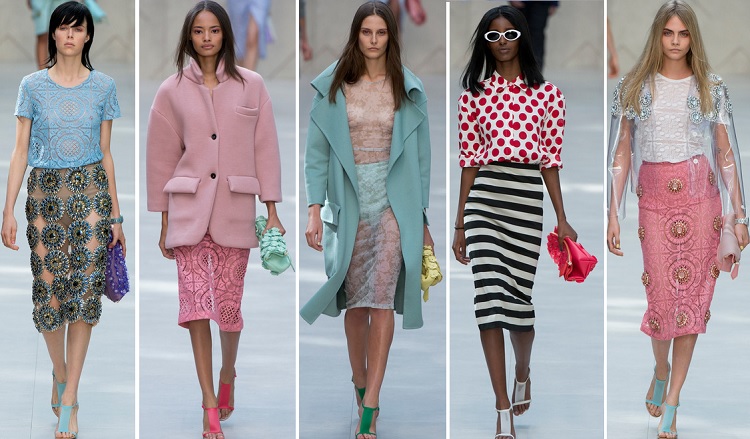 Possibly the most raved about show on social media (we're not surprised), Burberry Prorsum wowed no end. With every fashion personality gushing about the star-studded front row, and their close proximity to Harry Styles, we finally got a glimpse of the collection – which was just as gush-worthy!
Giving us ovoid coats and classic trenches in the softest pastel shades imaginable, splashed with statement embellishment; Christopher Bailey went onto remind us of the soft-hard contrast with strap heels and crunched up clutches in bold shades of green, pink and yellow pitched perfectly against lighter-hued counterparts. The A-lister favourite heart-print shirt for autumn/winter 2013 was updated with a Hinomaru inspired print for next summer, clashed against a striped skirt, leaving us firmly wanting to be a Burberry girl next season!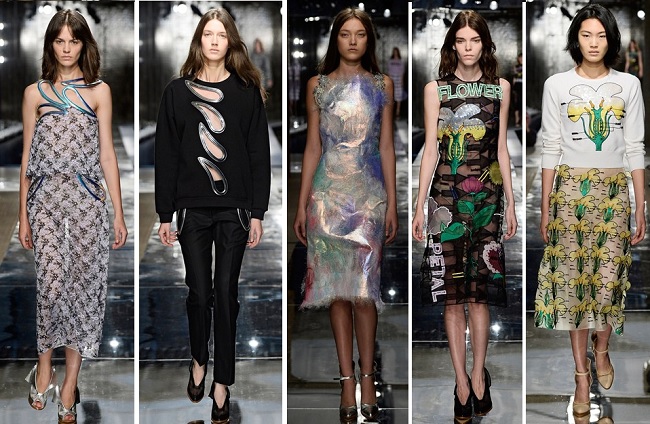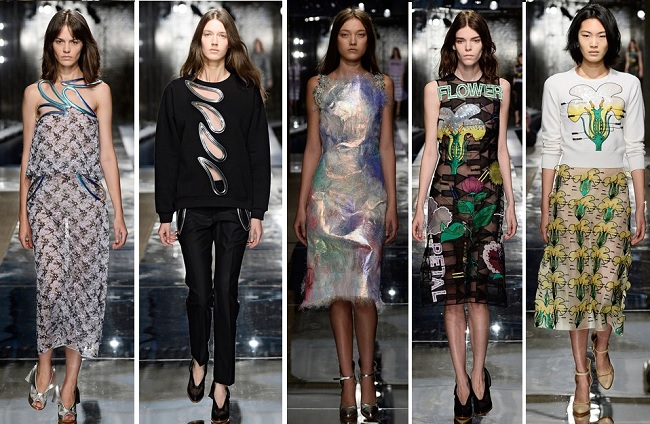 Oh Kane, how we do love thee! Christopher Kane possesses an innate ability to make even the most hardened of fashion sceptics fall in love with the unconventional, and his biology lesson in the reproductive system of flowers (yes, really) was a lesson no one really wants to miss.
After the proud announcement of a store opening in London's Mount Street in 2014, Kane went on to present a technically challenging collection; it was like chemistry mated with biology (excuse the pun overload), as massive flower diagrams, annotated with scientific precision were placed on sheer dresses, alluding to the underlying sexuality of a woman.
Hemlines were demure, a far cry from the camo-print mini lauded for autumn/winter 2013. Sweatshirts adorned with cut-out details and flower diagrams are set to be superstar pieces next season, not forgetting the line-up of evening gowns in black and dusky gold – Kane's subtle way of telling the fash pack that he meant red carpet business, now that he was mingling with the Kering boys.