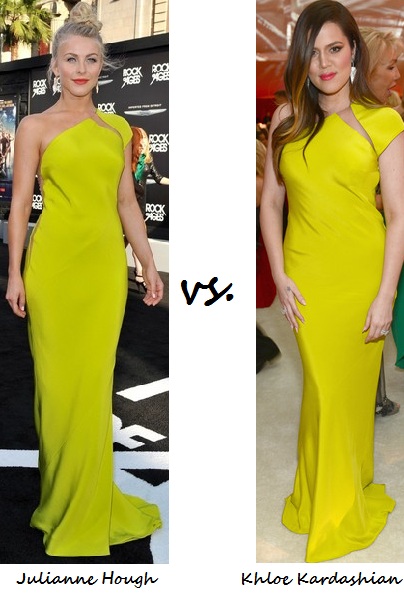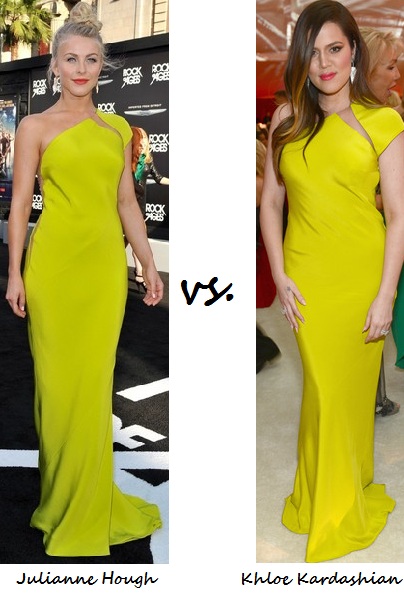 A zingy gown is a no-brainer when it comes to falling on our style radar and this week's contestants certainly put the fizz into fashion!
Julianne Hough and Khloe Kardashian are the ladies at style loggerheads, after slipping into the same neon yellow (slang for citrine, should you care), floor-length Kaufmanfranco gown. But thank the style heavens they didn't step out at the same time, or on the same red carpet…!
No, because Julianne actually sported said gown back in June 2012, when she took to the red carpet for the Hollywood premiere of 'Rock of Ages'. Teaming the silk crepe statement number with colour-pop lips and a twisted top knot completed her look.
Lamar Odom's missus, on the other hand, wore the same gown to Elton John's annual Oscars viewing party in West Hollywood, last month, opting instead to leave her glossy locks down and accessorising with earrings similar to Julianne's.
But whose look came out on top? Was it Julianne's playful style, or Khloe's demure pose and flowy tresses that get your vote? For us, Julianne is the clear winner, because THAT wowser neckline deserves a some serious showing off, and Khloe's down-do doesn't do it any justice.
Are you in with our verdict, or did you want to see the Kardashian kueen krowned style star (geddit?).