Last Updated on 19th October 2013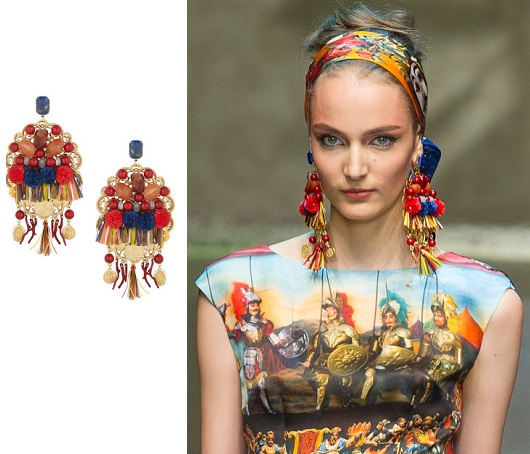 The undisputed runway rulers of the accessory world, Dolce & Gabbana's seasonal Sicilian offerings never fail to disappoint.
Always harking back to their native Italy, the designs are splashed with intense colour and smattering of beautiful details; often ornate and major statement makers.
So, on our Yay or Nay radar this week are hot-off-the-runway filigrane embellished gold-plated clip earrings. Decorated with multi-coloured stones, engraved gold-plated coins, raffia tassels and pompoms, clipping these to your earlobes are sure to turn heads!
But they're not exactly a dainty and delicate addition to your jewellery collection, and as with all Dolce designs, require a certain flamboyance to carry them off properly. Below, we weigh up the pros and cons of snapping up a pair!
Yay
Statement buy: Safe to say, the filigrane embellished gold-plated clip earrings aren't your average minimalist investment. You're set to make an uber-statement with these earrings, not to mention be the envy of your fashionable friends!
Complementary to your wardrobe: With an array of colours squeezed into one earring, you're sure to find the majority of your coloured wardrobe fits with this pair. No need for a wardrobe revamp then!
Lightweight: Although they appear to be incredibly heavy, these earrings are deceptively lightweight, making them less painful when working your look on the beach all day!
Nay
One wear then despair item: The downside of a statement buy is that its sheer look-at-me factor means you can only really ever get one wear out of it, before experiencing yawn-you've-worn-it-before glares from passers-by! These earrings firmly fall into that category.
Size: Not for the faint-hearted, much like most of Dolce & Gabbana's colourful creations, these earrings are on the large side – meant to make an impact. Not the best investment if you prefer your accessories to accent, not overtake, your outfit.
Price: At £710 a pop, you'll probably have to curb your accessory expenditure to accommodate these earrings, and consider whether you're willing to spend a major portion of your monthly rent on a pair of ear decorations!
Are they a Yay or Nay for you?
Dolce & Gabbana filigrane embellished gold-plated clip earrings, £710, availanle at Net-a-Porter