Last Updated on 19th October 2013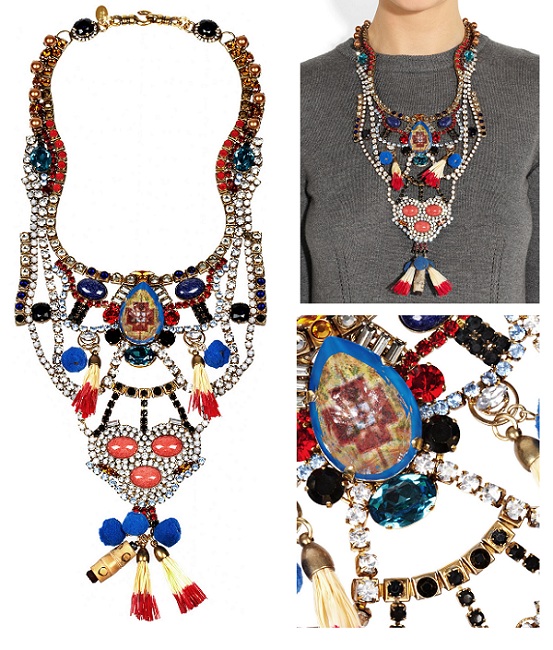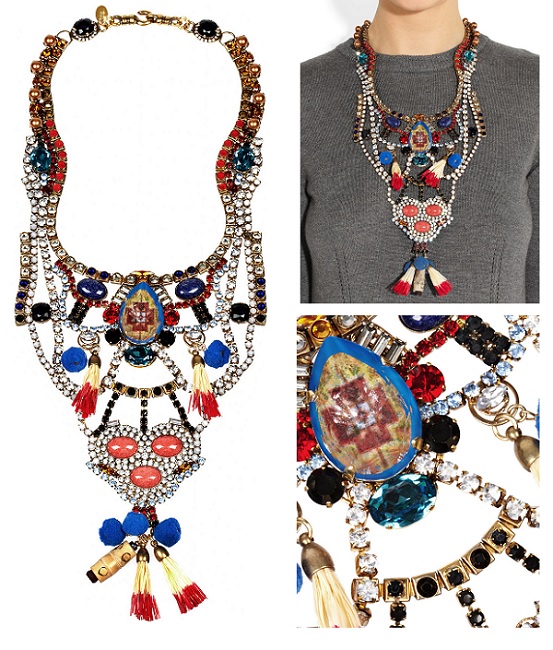 A statement necklace is to a fashionista's wardrobe what a Chanel show (and show-stopping dress) is to Diane Kruger: a crucial necessity. Far removed from its previous decorative evening only label, a statement necklace is now just as well-placed with an office ensemble as it is with an LBD.
That said, just as with any statement item, it requires a healthy dose of fashion confidence with a handful of style chutzpah to carry off. Many of you may worry about accessory overkill with only one item of jewellery, or looking too overdone to jump on the tube/subway home; if you're one of those people, look away now.
Let us present to you this mammoth neck adornment from haute jewellery crafter, Erickson Beamon. The Swarovski crystal bib necklace is, well, quite the eye-opener, not to mention the ultimate in attention-grabbing accessories!
Maybe not one for statement necklace virgins, we weigh up the pros and cons of landing this beauty around your neck, over a very cosy looking J.Crew knit (natch).
YAY
Outfit transforming qualities: This goes without saying: you put it on and, just like that, you're transported to Planet Dello Russo, the land of the street style darling. Whether that's a good or bad thing, we'll leave that up to you.
Mix of trends and textures: The bib necklace combines an Ethno-Twenties vibe to perfection; the raffia tassels and exquisite multicoloured Swarovski crystals, lapis lazuli and jade tug at our heart (and purse) strings.
One piece show: This necklace is so show-stopping all on its own, it cancels out the need for any other form of accessorising. Forget fussing with rings, earrings and bracelets, and just pop this corker on!
NAY
Price: A mildly (OK, majorly) strangulating (pardon the pun) £1,240 price tag. Caution: You may find it difficult to breathe.
Size: The bib necklace is considerably large, even for a statement necklace. Being such an attention-grabbing piece, it could possibly limit the wardrobe choices you're able to make, making a statement evening dress look like a competitor, and always demanding a pared down, Emmanuelle Alt-type ensemble.
One wear then despair: Well, we're pretty sure you're familiar with this phrase by now, and it couldn't apply any better in this bib necklace's case. Although the semi-precious stones combine to make a covetable accessory, how many wears will you get out of it? Not the most transitional in terms of colour, as there is so much of it injected into one necklace, and it would probably clash with the majority of the colour in your wardrobe. Something worth thinking about before shedding your fashion fund at a Céline-induced rate.
Erickson Beamon tribal patchwork gold-plated Swarovski crystal bib necklace, £1,240, available at Net-a-porter.