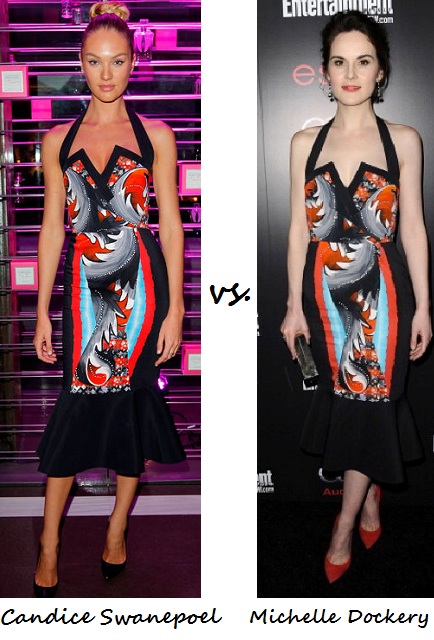 Masters of print, design duo Peter Pilotto know how to make a woman look good in a dress. And the two women competing for our attention in said designer's dress this week are Victoria's Secret Angel and all-round gorgeous lady, Candice Swanepoel, and Downton Abbey superstar, Michelle Dockery.
First up, Ms. Swanepoel floored us with her fashion moves, as she slipped into the stunning flamenco-inspired printed panel dress at the Victoria's Secret 2013 Swim Collection Party, last month. Looking enviably tanned and toned, the leggy lovely completed her look with a slicked back top-knot and black Louboutin pumps.
But beating the South African beauty to it was English rose Michelle Dockery, who wore the same dress back in January to the Entertainment Weekly pre-SAG awards party. Opting for a chic, wispy up-do, Michelle accessorised her look with drop earrings, a box clutch and red pumps.
Both ladies looked equally stylish in their print-tastic dresses, but there can only be one style champ! And with that said, Michelle lands our winning vote.
Although we want Candice's impossibly perfect body, the overall look is a bit harsh, and maybe tumbling locks would've been a better option. Black pumps are a little boring too, almost blending the look into one, matchy-matchy outfit. Michelle's softer hairstyle and red pumps bring the extra glam factor to her look.
Disagree with our style verdict? Tell us why, below!