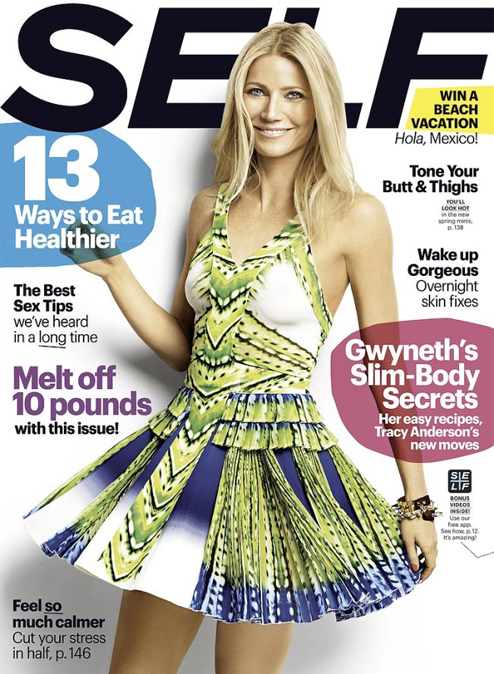 April could not come sooner, and that's not just because we want to rid ourselves of the depressing weather, but because a very bronzed and glowing Gwyneth Paltrow is posing pretty for Self Magazine. We've missed her on the fashion glossy covers!
This is the perfect issue for those looking for some health kick tips (as is April's Shape issue with Beyonce on the cover, FYI), as Gwyn explains how she detoxed her life by healthy living, and the effect it has had on her body, marriage, and emotional health.
"I cut out basically everything: dairy, sugar, gluten, anything processed. I was like, 'What the f— am I going to eat now?' That's why I made the book to stop eating brown rice out of the fridge because I didn't know what else to eat—it was demoralising, " she said. "You feel lighter and your emotions get smoother."
And how does the Iron Man star de-stress after a hard day? "I watch Homeland or New Girl," she continued. "I also like to have martinis with my girlfriends. I feel a sisterhood emerging around me. I'm less threatening now that I'm 40 and not 26-with-an-Oscar. There's a sense of love and support."
Martinis and New Girl? Check and check – Gwyn is definitely a girl after our own hearts! You can read more useful hints and tips in April's Self mag!