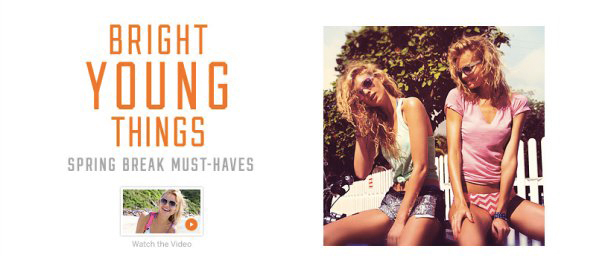 Bad times for Victoria's Secret PINK – the latest Bright Young Things ad campaign, which has been launched in conjunction with the brand's Spring Break themed collection, has sparked controversy as it was alleged that the pieces were aimed at teenage girls.
Some of the pieces include underwear with suggestive slogans such as "feeling lucky", "call me" and "wild" which many parents deemed inappropriate. A Facebook page entitled 'Dear Victoria's Secret: Pull "Bright Young Things' has just been launched, and a similar online petition has been started.
However, Victoria's Secret is keen to set the record straight and rubbish the rumours that the collection is aimed at teenagers…
"In response to questions we recently received, Victoria's Secret PINK is a brand for college-aged women," said a spokesperson from the brand in a statement. "Despite recent rumours, we have no plans to introduce a collection for younger women. "Bright Young Things" was a slogan used in conjunction with the college spring break tradition."
Where do you stand? Do you see where the parents are coming from or is the ad campaign and collection as playful as all the other VS ones? Let us know your thoughts!