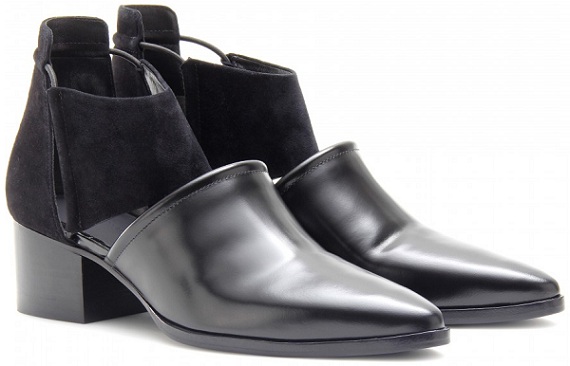 Classic black ankle boots are a wardrobe must, and when they're pre-fixed with an 'Alexander Wang' tag, we're immediately interested.
Thanks to Balenciaga making missing chunks out of our boots du jour, we've developed an undying love for the flesh flashing, cut-out kind. Given cut-out silhouettes were rife across the spring/summer 2013 catwalks; it shouldn't really come as a surprise that your feet want in on the action!
This week we're lusting over, and seriously contemplating at the same time, the Nadine suede ankle boots by our fave NYC cool kid, Mr. Wang. An eyeball-pleasing combination of glossy leather and luxe suede makes these boots perfect for pairing with an off-duty ensemble, or equally edgy paired with a cropped trouser suit.
But hey, we're not ones to dive in with the plastic upon seeing a pair of buy-me-now boots (no, really), and we don't think you should, either. Stop. Take a deep breath and carefully consider the reasons we're saying YAY and NAY to purchasing these wondrous, want-now beau-oots!
Yay
Classic shoe: Much like a well-cut blazer or a basic white tee, black ankle boots are a timeless and trend surpassing investment. Goat leather and super-soft suede make these boots a covetable buy.
Easy heel height: A two inch heel make the Nadine boots perfect for teetering around in all day, minus the throbbing fashion feet aftermath!
Style versatility: Worn bare feet on a sunny day, or with ankle socks for a kitsch cover up when the temperature drops, you won't run out of ways to style the Nadine boot.
 Nay
Not weatherproof: Although they could successfully tackle freezing temperatures, we're not too sure the cut-out detail will offer respite from soggy feet on a typically British rainy day!
Trend-centric: We have thanked Balenciaga for the advent of the cut-out trend, but making a high-end, trend-centric investment could be a risky move. Ask yourself this: after how many wears will you bore of these boots? Also, do they work with much of your wardrobe, or do you much prefer a 'whole' boot?
Price: Yep. Ouch. Although £549 isn't considered bank balance diminishing by high fashion standards, it's a three-digit sum that will kill off that expensive coffee habit and may have you eating baked beans straight from the tin for a while!
Alexander Wang Nadine Suede Ankle Boots, £549, available at My Theresa