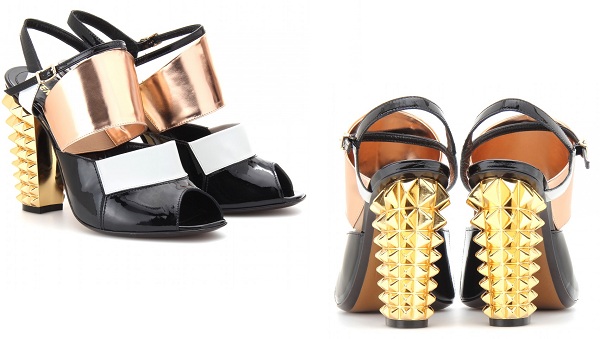 True to the decadent status of the country this brand originates from, Fendi is the epitome of Milanese glamour. We're talking pure, unadulterated, dello Russo levels of glamour.
Dripping with the luxury factor, and with an equally eyeball-popping price range to match, the Italian fashion house has given us this season's hottest shoe – much like the 'It' bag, but for feet!
Enter the Studded Heel Sandal; a 'foot party' if you like, as patent monochrome is artfully paired with metallic rose gold and a statement studded heel for the ultimate party heel.
Although shoes with the 'wow' factor are an absolute necessity in every signora's wardrobe, when it comes to the cash splash, treading carefully (pardon the pun) is important.
So, to make the buying (or nope, not even looking) decision a little easier, we weighed up the YAY's and NAY's of snapping up these fashionably feisty Fendi heels before you become guilty of killing off your fashion friends with shoe envy.
YAY
2-in-1 Trend trapper: Monochrome and metallic were huge trends favourites for SS'13 and, well, we do love a two bird with one stone style situation. These heels do just that.
Perfect for summer soirées: The ultimate summer shoe hit, you won't need much else when slipping into these studded sandals. Pair with a block colour, floaty summer dress and you're good to go.
Flattering colours: The monochrome is perfectly accented by the metallic rose gold cuffs, so the result will be a sleek and modern one when paired with a tailored wardrobe, or even a pencil skirt and a luxe knit for work.
NAY
Price: Ask yourself this: how many wears can I actually squeeze out of these heels before I begin to tire of them? If you can answer this question with a number exceeding eight, then you have justified the £801 price tag on a one-wear-per-month basis. *insert concerned fashion girl gulp here*
Open-toe: If, like us, you want your shoes to work harder than your calves have to when subjected to a 4" heel all day, an open toe option may prove problematic – especially if you're looking to brighten up winter outfits with these heels. Frostbitten toes were never chic.
Few season-transcending qualities: Studs immediately give an item they adorn a very 'now' feel, making it quite trend focused. If studs are your way of embellishing a look, then you'll have no complaints, but if you feel too grown up for studs and prefer a sophisticated sequin or floral texture when accessorising, steer clear.
Fendi Patent Leather Sandals with Studded Heel, £801, available at My Theresa.