Last Updated on 7th June 2013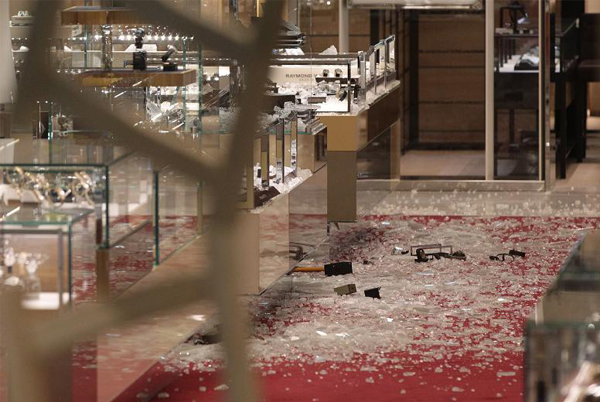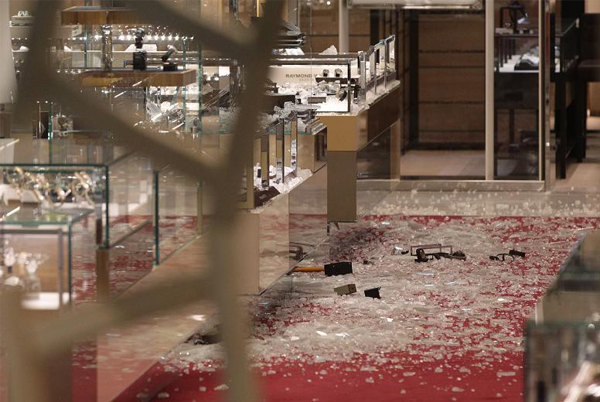 Two men have been arrested after a "smash and grab" raid on Selfridges in Oxford Street at 8:30pm last night.
The suspects were reportedly wielding axes and mallets, and smashed display cabinets on the ground floor to grab watches and other pieces of jewellery.
"Police were called at approximately 8.30pm to reports of a smash and grab inside commercial premises on Oxford Street," said a spokesperson for The Metropolitan Police
It's not known how many men were involved, but two were detained after crashing their moped near Goodge Street and were pinned down by passers-by.
"Someone noticed a bag had fallen off the moped and that it had opened and a bunch a watches fell out," said witness Matthew Carrozo. "The duffle bag was full of watches and jewellery.
"The first guy pegged it down Charlotte Street and then he was held to the ground as other people were getting involved. He really put up a struggle. When cops turned up they put him in the back of a van and he was kicking and screaming. The other man was injured.
"Apparently it was just an accident and the moped slipped on a grate on the ground. We were totally stunned by what we saw."
Selfridges staff took to Twitter to assure to public that no one was seriously hurt.