Last Updated on 18th June 2013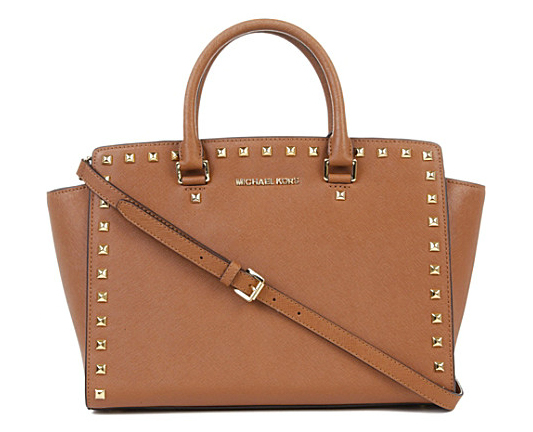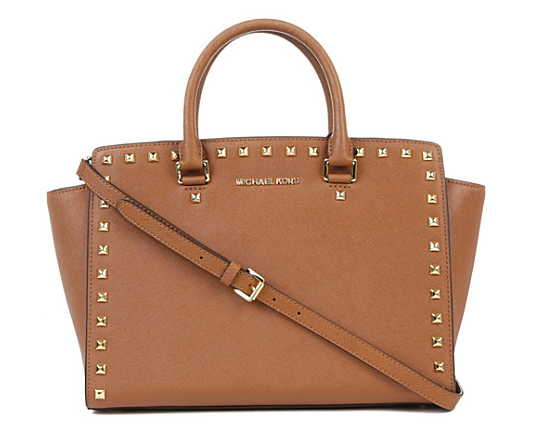 Bags… an everyday essential! Whether you are off to work or out for the day, everybody needs one. They come in all different shapes, sizes, patterns and designs and they're all unique in their own special way. However, no one quite makes a bag like the genius that is Mr Michael Kors.
We love this timeless tan coloured satchel by Michael Kors that features a gorgeous gold stud trim, which frames the bag along with a handy adjustable shoulder strap. Sleek, and oh so chic.
The perfect size to keep all your everyday essentials in, this satchel definitely has enough room to carry you through the day. From diaries and documents to a light change of clothes as you finish the day job and head off out into the evening. Versatile, stylish and practical, this Selma studded saffiano satchel will see you glide through the day from one appointment to another with virtual ease and effortless panache.
Fully adaptable for many occasions, whether one is off to the office or off to do a dash of lunchtime shopping, this tan coloured satchel would fit the bill for your working accessory and your ultimate shopping buddy. You certainly won't go wrong with this stylish satchel swinging on your arm!
Michael Kors Selma studded saffiano satchel, £330.00, available at Selfridges