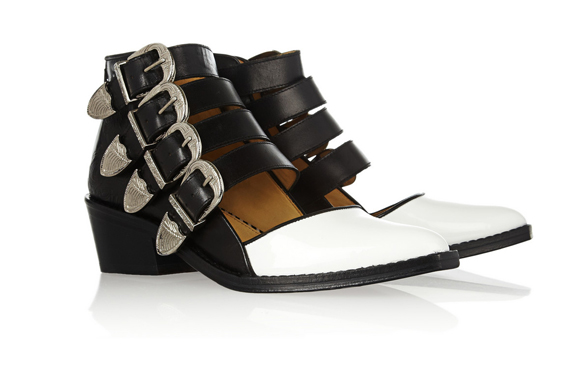 Here's a chance to stamp your look with a quirky style this season with these ridiculously amazing Toga Pulla buckled leather and patent leather cutout boots.
Possessing an innovative, fiercely fun vibe to your footwear, these one-of-a-kind boots present a graphic cool feel you don't have to be auditioning for the part of Willy Wonka to rock these babies!
We love the tactile mix of the engraved black leather and white patent leather that perfectly showcases the forever-popular monochrome trend this season. The four oversized silver-tone side buckles only add to the bizarrely beautiful boot that we want right now!
Originality is everything when we talk fashion, and what better way of conveying your individual sense of style than to have a bit of Toga Pulla in your life?
Haven't heard of her? Former costume designer Yasuko Furuta founded the Japanese label; Toga and her creations set her apart by introducing modern silhouettes, futuristic fabric combinations and exquisite embellishments. Meanwhile, the brand's sister line – Pulla – puts a casual twist on these style signatures. Pretty cool, right?
We recommend keeping your outfit tonal when it comes to styling, with complementary sharp black tailored pieces and sleek whites for maximum impact.
Toga Pulla buckled leather and patent leather cutout boots, £352.00, NET-A-PORTER.