Last Updated on 31st July 2013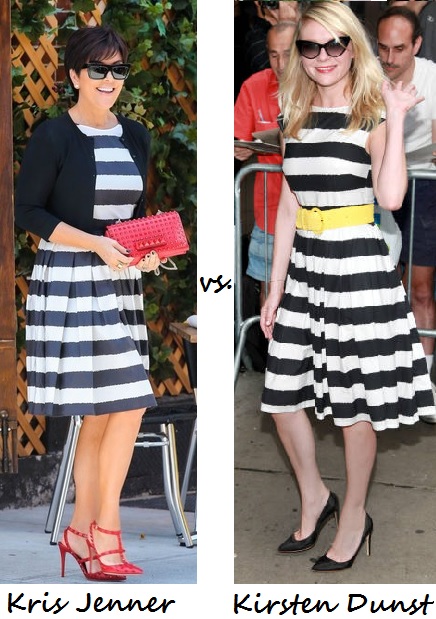 A summer-perfect, striped dress is the subject of this week's fash-off, and we're pretty darn excited about it!
Hollywood darling Kirsten Dunst and matriarch of the Kardashian (k)lan, Kris Jenner, are at style loggerheads this week, as the pair battle it out in a gorgeous Dolce & Gabbana number. Sporting the same zebra crossing stripe dress from the SS13 collection, both ladies brought a very look to the table.
Getting runway-fresh dibs on said dress was Ms. Dunst, who wore it last year to promote her film Bachelorette in New York. Adding a pop of colour with a yellow belt, whilst cleverly cinching the waist at once, Kirsten accessorized with simple black pumps, bright lips and cat-eye sunglasses.
But battling to upstage the actress was momager and all-round paparazzi pro, Kris Jenner. Stepping out after lunch in New York earlier this month, Kris took a very First Lady approach to wearing the same dress, by slipping a black cardigan over it. Accessorising with a Valentino Rouge Rockstud clutch and matching heels, Kris was the vision of luxe lunchtime chic – something we've become accustomed to, given the Kardashians' penchant for eating out in pricey, off-duty duds.
So who are we crowing this week's fash-off champ, you ask? Well, given Kris and Kirsten were attending very different events; we're going to stick with Kirsten on this one. Hers is an easy look, thank to the simple accessories, whereas Kris's look – although fiercely stylish – is too much for a lunch date!
Do you agree with our fash-off verdict?