Last Updated on 14th June 2014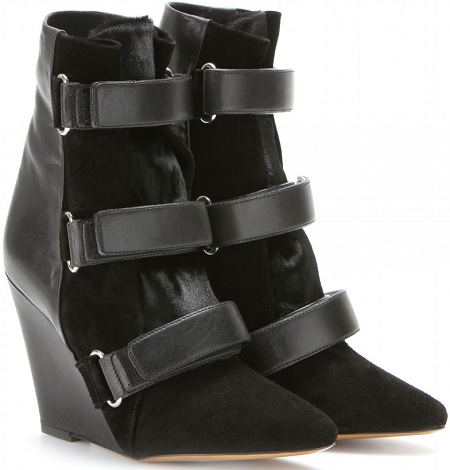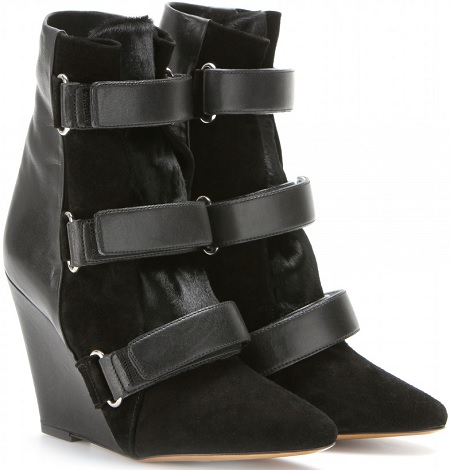 On the agenda this week: boots. We've already discussed the possibility of slipping into thigh-highs this winter, but we just can't stop contemplating what our boot collection will look like come September!
While we wait to see what our favourite high street retailers and discount websites will have to offer we also have our eye on the latest new arrival from the cult-creating Parisian power femme, Isabel Marant, whose latest wedged offering has left us somewhat baffled.
Is it a boot? Is it a snoot (sneaker-boot)? Or maybe it's a French glamour-oozing wedge hidden behind camouflaging straps to give it a du jour sporty slant? Whatever it is, it's called Scarlet, and its here to stay.
Taking a fashion week-appropriate approach to the notoriously stylish Isabel Marant sneakers, the a Scarlet boot (£815) comes with a hazard warning: Goes with anything. Addiction is a major possibility.
Encased in leather, suede and calf hair, the Scarlet boot brings a serious meaning to the chunky Velcro strap, whilst keeping an air of French nonchalance about it. Tempted to touch? We don't blame you, but do rationalise your decision with our Yay and Nay pointers below, before sending your Amex in to the abyss of fashion expenditure!
Yay
Comfortable heel: Ahh, the comfort of a stable wedge heel is unmatched. No more hobbling for the sake of fashion.
Sporty-smart mix: If you're a fan of the sport-luxe trend, but don't want to translate it too literally when dressing, this boot-trainer hybrid is perfect for dipping into Isabel Marant's sneaker trend without selling your soul to gym-appropriate footwear.
Universal colour: Is there really anything in your wardrobe that couldn't possibly go with this colour?
 Nay
Poor weatherproof upper: Although leather gets better with every wear, suede and calf hair can prove a textured disaster – especially given Blighty's affinity for wet weather!
Price: At a gulp-inducing £815, the Scarlet boot is over twice the price of its sneaker sister. Prepared to plunge?
Sell-out status: Much like the similarly styled Lazio boot before it, the Scarlet boot is set to be a sell-out piece. Beware: Marant-fied fashion mavens will openly roam the streets, come fashion month – fancy joining the herd?