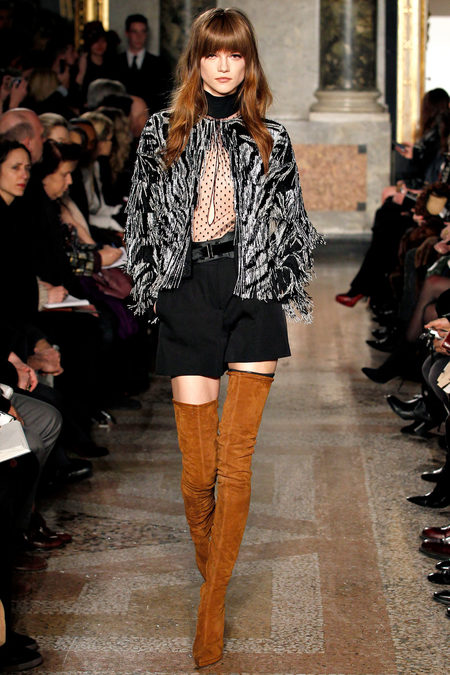 Ankle boots, yes. Cut-out styles, OK. Cult (and costly) Saint Laurent suede versions, HELL YEAH! Thigh-highs, oh, wait…
The above pretty much defines our reaction to the plethora of boot styles spring/summer and autumn/winter 2013 threw at us. It only takes one breathtaking street style snap, or a trio of similar design to appear on the runways (three's a trend and all) to kick-off a religious shoe following, elevating an otherwise unbeknown boot to god-like status, and putting impossible cigarette heels at the forefront of that which is considered de rigueur when it comes to attention-grabbing footwear.
So, naturally, when we laid eyes on the new season's latest obsession, over-the-knee boots, we had to take a step back in contemplation and figure out if a boot spanning our arm length and then a bit more, could possibly make its way into our shoedrobes come September.
On the runway, we blame Tom Ford for his endless, mosaic-effect offerings; Céline, for the spray-on leather beauties peeking out from under the most perfectly flared skirts, and Emilio Pucci for seducing us with buttery soft, hip-touching boots that left us in a state of permanent drooling. Even a recent celeb spot, namely Lily Collins in the 'Big Lips' O-T-K boots by Christian Louboutin had us cooing with envy at the sheer leg-lengthening effect these mighty boots deliver!
But let's not look away from the fact that, often, boots surpassing the calf haven't always received rave reviews, or been held in the best light. Negative associations with certain 'professions'; accusations of undergoing a mid-life crisis if caught rocking a pair past a certain age, and the general consensus that over-the-knee boots scream 'I'M A VAMP'(particularly when worn in the day) have all existed at some point. But is it possible, that the British Vogue seal of approval in the August issue – featuring model Iselin Steiro in jaw dropping fall ensembles accented by laced up, metal-heeled and Baroque-inspired O-T-K boots – firmly cement their must-have status? We think so.
Considering boots are the stylish mainstay of colder climes, will you rock a pair of O-T-Ks? Given they're a super-stylish replacement for ladder-prone, often itchy tights; we're not backing out just yet.
Now to work on getting boot-worthy pins.