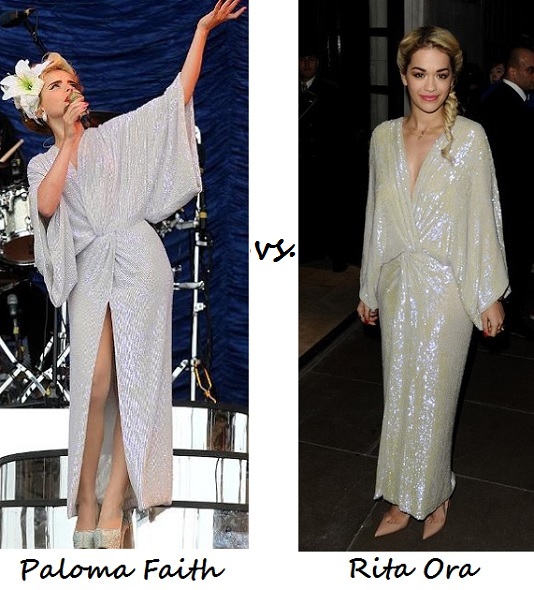 In the battle of gorgeous gowns this week, we have the eccentrically charming and sartorially accomplished Paloma Faith, going head to head with Jay Z's favourite protégée this side of the pond, Rita Ora.
Both rocking a Diane von Furstenberg Spring 2013 sequined gown, there was some serious shimmering action to take in, and we weren't about to let this fash-off slip from our style radar!
Paloma Faith wowed at T in the Park last month, as she took to the stage in said dress. In true Paloma style, she adorned the look with an over-the-top floral headpiece and matching Steve Madden platform pumps.
But beating the 30 Minute Love Affair singer to donning the Diane von Furstenberg beauty was Rita Ora, who debuted the look at the Brit Awards nominations announcement back in January. Pairing the gorgeous gown with nude pumps, a soft lip and a slick of crimson on the nails, she certainly nailed the look (pardon the pun!)
Picking a winner sure isn't an easy task, especially when both contenders look this great, but we had to settle on a favourite…and this week, we're going with the crooner guilty of serious style, Paloma!
The look-at-me headpiece, retro-inspired hairdo and sky high heels all add interest to the mono-coloured gown. Rita's look, on the other hand, is a bit too tonal for our liking. What say you?
Whose look was a winner for you?