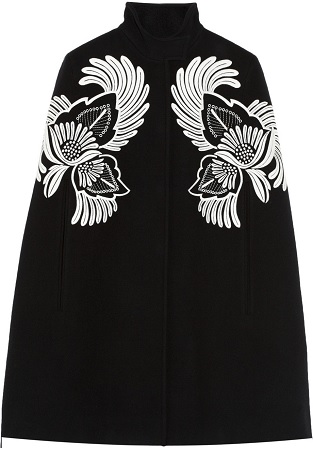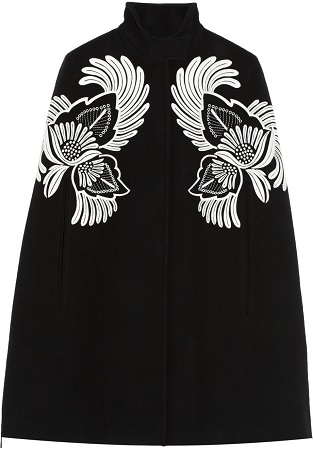 Still clinging onto the last strands of summer sun? Don't want to slip out of that silk cami top into something snug just yet?
OK, nor do we, but that doesn't mean we can't plan ahead! So, while researching how to land ourselves a stellar outerwear wardrobe for the new season, we stumbled upon this breathtaking Stella McCartney floral-embroidered wool cape (£1,880), and couldn't help but put it under our Yay or Nay spotlight!
With its seemingly magical qualities – like a superhero's – battling the elements, but still remaining a little more sartorially inclined than Superman's, all hail the head turning floral-embroidered cape from the genius who knows how to nail a must-have wardrobe – Stella McCartney!
With a big focus on larger-than-life coats, thanks to fall's fabulous affair with sugar-dusted pinks, laundry bag checks and masculine silhouettes, the cape is a refreshing alternative. Marrying practicality with ladylike charm, this beautiful wool cape is adorned with a striking floral motif, finished with padded shoulders for a shapely cover up silhouette.
But being the savvy shoppers you are, we know you won't nosedive into blindly bagging the next 'It' item, and that's why we've rounded up the reasons for and against bagging this chill-blocking beauty, below!
Yay
Great alternative to a coat: If there's no shortage of coats and jackets in your wardrobe, then a cape would make a refreshing addition to your cover up collection.
Classic colour: Nothing beats a black canvas, and no one quite does a classic shape like Stella McCartney. The universally flattering colour will ensure you don't run out of pairing up options when it comes to your wider wardrobe.
Versatile styling: Wear it as a cape for daytime with flats and a trusty tote. But by night, why not turn it into a dress with sexy heels and a clutch bag, to hit the hippest restaurant with your beloved.
Nay
Price: The superpowers this Stella cape delivers are unmatchable, but cashing in at £1,880, it's set to play the vanishing act on your bank balance!
Statement motif: If you're not a fan of statement prints, motifs or even the sweatshirts that are all the rage right now, then this pricey buy may not be for you. Although bold patterns are a recurring theme year in, year out; if you're already sensing this'll be a one-wear-then-despair purchase, steer well clear.
More coat for your money: If you're looking to make a solid winter investment, then splashing near £2000 on 'half a coat' isn't ideal. Skip the cape style and, instead, go for a coat with all the luxe trimmings.