Last Updated on 19th October 2013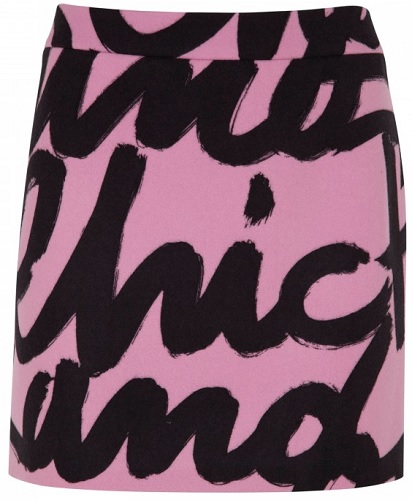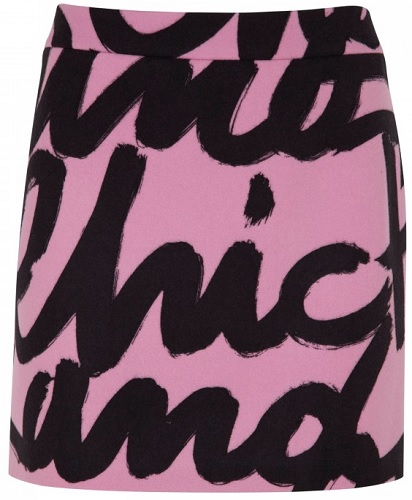 OK, so the season has been about the statement sweatshirt or bold tee, but we're shaking things up a bit.
Moving your eyes from the sweat to the skirt, we've picked out quite the eye-opener for this week's Yay or Nay. Enter the Moschino Cheap and Chic pink and black wool-blend felt skirt (£230). Yep, quite the mouthful, and pretty heavy on the eyes, too!
The painterly logo print makes for a bold look against the bubblegum pink background (so new season), and we think it's the perfect piece for pepping up a simple party outfit.
Ensure to keep the rest of your outfit neutral, as the skirt works best paired with a simple tee, heels and a clutch night. Or, inject some fun into a day look by pairing with a black turtleneck sweater and flats.
But wait! Before whipping out the plastic and submitting your bank balance to another (regular) 'cleanse', check out how we're going about rationalising the purchase of this kooky little number, below.
Yay
New season colour: Pink is the hottest story of AW13, and this skirt is a great way to dip into the trend.
Price: Neatly priced at £230, it won't necessarily leave you in a state of financial ruin, and still leave spare change for that cheeky (extra) pair of heels you've been eyeing up!
Easy party investment: Making life easier when heading for night in the town, this zero-effort skirt won't need much else. Its bold existence is quite enough, so keep the rest of your look muted.
 Nay
Loud print: As much as it's a good thing when looking to turn heads with your brazen approach to skirt shopping, if you sense this trippy thigh-skimmer landing in the one-wear-then despair pile, thanks to its megaphonic logo print, forget it.
Dry clean only: Being a fussy wool-blend felt skirt you're looking at costly dry cleaner runs. Time to make friends with your local one, we say.
New season longer lengths: With below-the-knee hemlines running riot on the AW13 runways, a shorter length maybe out of tune with the trend. But if you've figured out longer lengths aren't too flattering, then don't let us stop you. Shop away!