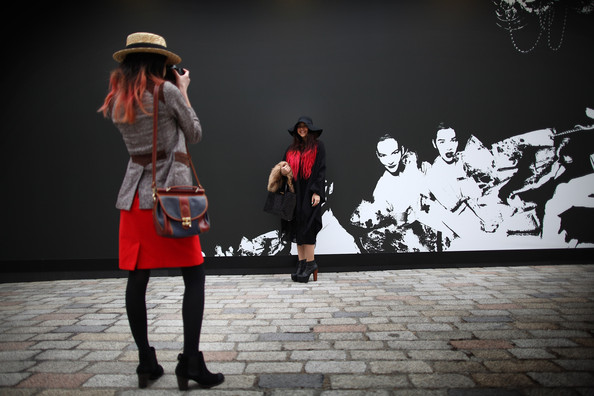 Tomorrow marks the beginning of a 5-day celebration of fashion in the near future. Editors, bloggers, camera wielders and, sadly, some desperate-to-get-papped individuals dressed to kill (no, not literally) will descend on Somerset house and the surrounding locale for a working week (yes, weekends are working days in fashion) of next season galore.
Whilst writhing with faux fur coat-induced heat rash in an overcrowded tent (sorry, we know its gross), we'll be drooling over summer-appropriate wares in perky shades, and, possibly turning a certain shade of absinth at the perfect mid-riff/nipple/flash of bum cheek on show. But even though we've just waved off summer, and squeezed into jeans after weeks in skirts, we're excited for what lies ahead.
But with the flurry of fashion and bright lights during fashion week come a few rules. A few unspoken commandments the style set swear by, and, often don't swerve from observing. But being the trailblazers of anarchy (we think) we are, we're breaking away from the norm this season, and travelling to the dark side: the side where coffee swilling and heel-shod feet are banned and food is in abundance – but not of the microscopic, gone-before-you-see it, canapé variety!
So, to celebrate the beginning of fashion week in the city that flies the flag for innovative design, regularly detours from the norm and champions the unexpected, here are the five fashion week rules NOT to observe this season:
Endless coffee hits: On your fifth flat white? Befuddled from a black coffee OD? Stop. Right. Now! Too much caffeine will only turn you into a stressed mess (although a fabulously dressed one), so why not replace your hit with a freshly pressed juice? Flavoured water is winner, too, or just stick to gold ole' H2O. After all, all that after-party alcohol needs to get through your system, so stop clogging it up!
Heels a-no-no: Rarely have we seen high profile show attendees in anything but heels. But with the prominence of the trusty and comfy slipper showing in our shoedrobes, why not ditch the four inchers in favour of a foot-friendly option? After all, show hopping is no small feat, and Alaïa's are by no means speedy.
Lack of sleep: Listen to your body and skip a party, or two. After all, you're at work (if fashion week is in your job spec), and wouldn't turn up to a meeting with the boss all boozy and bedraggled, right? Looking camera-ready is as much part of the process as dressing for it, so go home, put on your PJs and get those extra 40 winks!
The Coulder (or coat on shoulder, editor-style): Let's get practical: if it keeps slipping of your shoulder, it's not chic. This type of look usually warrants a not-so-practical clutch, which works if you're a taxied around editor, but not if you've got your life (read: hefty DSLR) to lug around with you all day.
Camera! Action! Run! Let's leave the posing to the runway regulars this season, shall we? We do love a good street style shot, but this season, how about playing the camera shy card and leaving the hovering around Somerset House courtyard to the not so busy? We're in, are you?
[Image]