Last Updated on 26th September 2013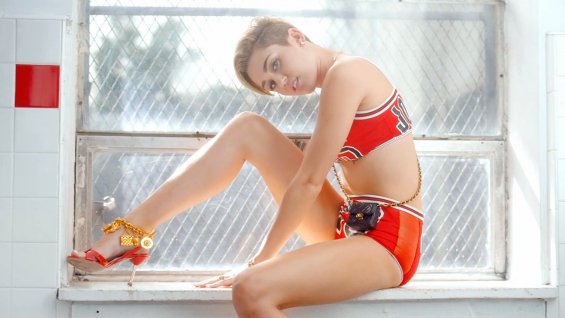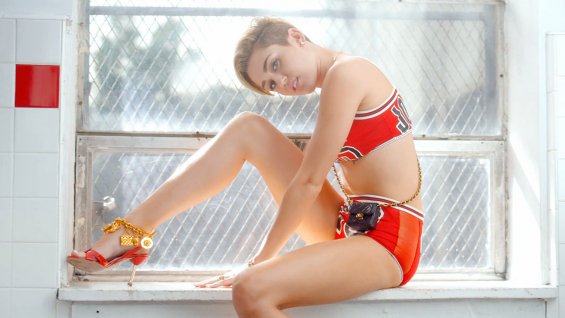 OK, we had to. Had to what? We had to dissect the latest in-yer-face offering from the House of Cyrus and all things non-Disney: 23
Alluding to Michael Jordan's jersey number for the Chicago Bulls, 23 is indeed the name of Mike Will Made It's latest song, featuring Miley– one that racked up over 3million YouTube hits within three hours of Team MFL hitting play (see the video below), and left us wondering how much of that number jumping was thanks to MC.
After a sombre, twerk-free, sledgehammer licking affair in Wrecking Ball, 23 highlights Miley's welcoming into the world of leather pant-clad, molten-mouthed, suspicious roll up smoking rappers (she even opens the song with 'I'm in the club, high off purp' – referring to a  recreational drug), and she succeeds in shocking and amusing in equal measure.
But as were pretty accustomed to the near nude twerking antics (of which there weren't many in this video), it was more her fashion choices we were looking at this time round, and here's what we deduced:
1. Miley isn't immune to the ortho sandal. She loves a pair of blingin' Birkenstocks – embellished, fur-lined, Céline ones worn with soccer socks, in fact.
2. We want that patent pinafore dress. Worn with sneakers, or 'J's' if you prefer Miley-speak, it's the ultimate rebel's LBD.
3. The deflated derriere is making a comeback. Brid-Jones-meets-basketball-uniform underwear is du jour, and we all know it's not forgiving on the bum, or going to deliver a miracle buttock lift! Miley makes unflattering underwear look easy in 23, and justifies giving that killer session of squats a miss!
4. More is more when it comes to Chanel. Our need to wear Chanel accessories, in opposing proportions, all at once, has gone into overdrive since watching the video. Itsy bitsy quilted 2.55 + chunky red 'double C' cuff = DOUBLE YES.
5. Sequinned basketballs are the bomb and we want one. Forget the ugly orange mounds of rubber (read: normal basketballs), and roll your sports equipment around in a vat of embellishment. Glitter or sequins, you decide. Just don't sit on the net, try aiming for it, instead.
According to Miley, a chunky charm bracelet is the new anklet (or branklet). Much like the ear cuff trend, which has successfully latched on, we think Miley's trying to go all trend starter on us and make branklets 'fetch'. We get the feeling this one won't last.
What do you think of Miley Cyrus in 23? Has the song won you over, or are you struggling to get past the furry Birks? Is the styling direction a little confused, or plain Miley?
Tell us your thoughts below!
[Image]