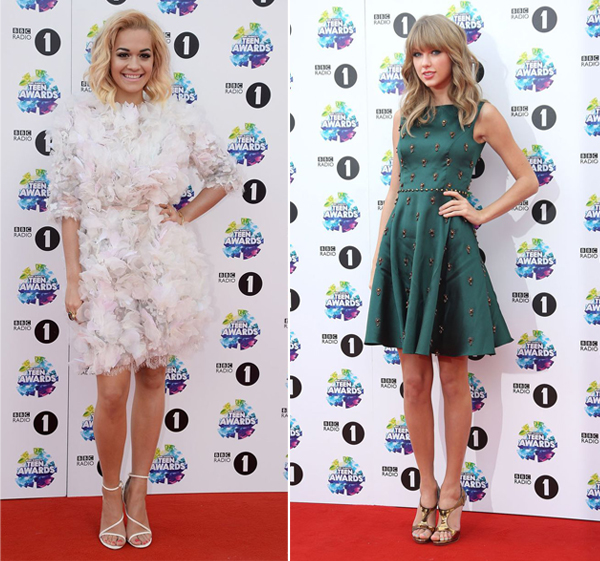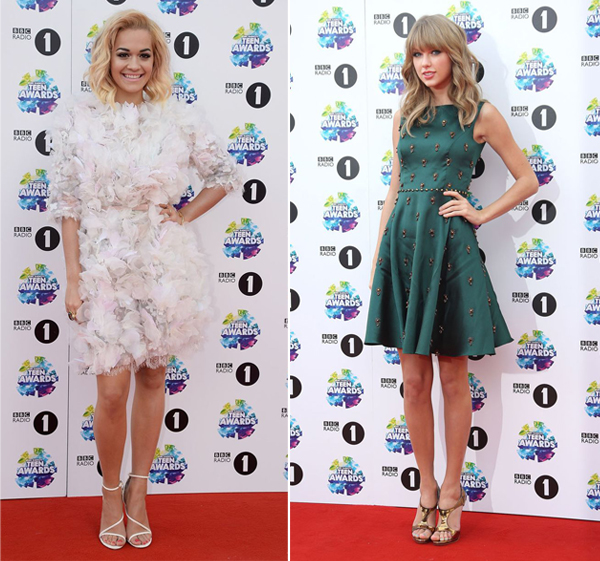 Although they are both successful singers, Rita Ora and Taylor Swift are quite different.
They have a different audience, different sounds and different looks… but they were united in stealing the sartorial show at last night's BBC Radio 1 Teen Awards.
Taylor Swift, one of the presenters, looked sweet yet sophisticated in a gorgeous turquoise dress from the Jenny Packham autumn/winter 2013 collection. She proved that Jenny Packham can do short and sweet styles just as well as she does long, sweeping and smoldering styles that Kate Middleton and Dita von Teese favour. The dress fitted her like a glove, and her subtle waves and light pink lipstick complemented it wonderfully.
Rita Ora chose to make more of an in-your-face statement on the red carpet by stepping out in a white feathered dress from the brand new Marchesa spring/summer 2014 collection. The dress certainly stood out a mile, but Rita kept the rest of her look – hair, make-up and accessories – simple, so the dress could do all the talking.
Two of our best dressed ladies on the BBC Radio 1 Teen Awards red carpet, for sure!