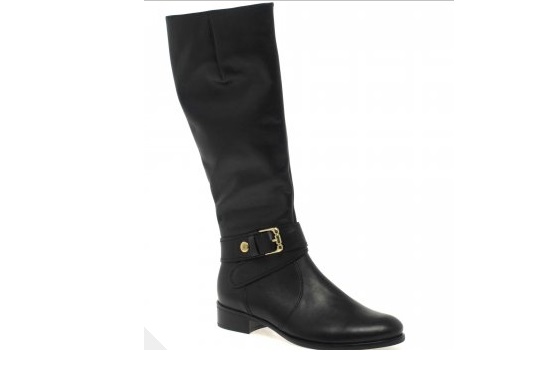 The transition from spring/summer to autumn/winter can be a tough one to make. Although we have long since waved goodbye to shorts and T-shirts, the relatively dry weather means we are still wearing our cute ballet pumps and flimsy plimsolls.
However, when the winter turns really nasty, as it did just the other week with the St Jude storm battering southern parts of the UK, we'll need more substantial footwear. That's why we've put together this handy guide of all the essential footwear you'll require to see out the colder months.
1. Everyday boot
In order to tackle the rain and snow, you'll need a practical pair of boots for everyday wear. Tottering around on heels when it is icy underfoot is hardly appropriate, so go for a pair of flat boots instead. Doctor Martins are a great option, having been seen on the feet of many fashionistas, with a following that includes Jessica Alba, Miley Cyrus and Gwen Stefani. This timeless boot has been a fashion staple for years – it never seems to date! They are available in a range of colours, but to nail this season's trend, we'd recommend going for an oxblood or navy colour to create a stylish punk look.
2. Formal boot
You will fail to see the benefit of wearing a pair of strappy sandals on a night out when you're standing in the taxi queue in what feels like sub-arctic conditions. Go for a heeled ankle boot instead – you will have all of the sophistication of your heels, with the added benefits of warm toes too. Check out the range of Gabor shoes available from Charles Clinkard – they have some great ankle boots like these that would complement a tights and skirt combo beautifully.
3. The party shoe
Although we may detest what the bad weather does to our hair, we can't help but rejoice when we see its arrival because it means that the party season is upon us! A shoe has the ability to make or break an outfit, so it is vital that you make the right choice. Sparkly shoes will show off your festive spirit so are a great choice. However, we're still drooling over Jeffrey Campbell's studded boots – we'll definitely be asking Santa for them!
4. The slipper
Finally, there is the ultimate winter essential – the slipper! Ok, so it may not be the most stylish shoe, but after a hectic day scouring the shops for that perfect gift, you'll enjoy nothing more than slipping your foot into a slipper. Go for a sheepskin-lined pair for an extra touch of luxury that will keep your feet toasty.