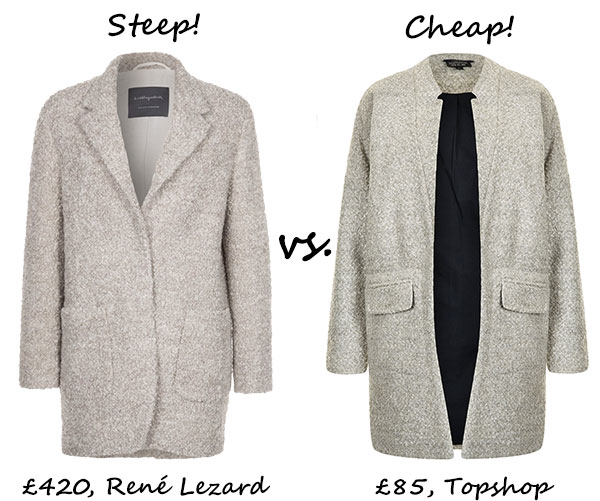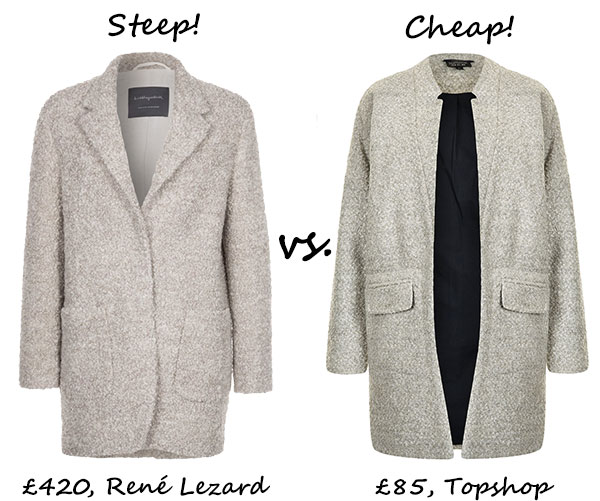 If you haven't yet invested in a snug winter cover up (if not, why not?), then we guess the recent chilly spell would've pushed you to do so. After all, a chunky knit pretending to be your coat just won't cut it anymore, not on those crisp, wintry mornings!
So, to make the task of choosing a suitable (read: stylish) coat a lot less mundane, we've picked out two options to suit all pockets, not to mention up your fash cred a few notches.
A mannish coat with throw on appeal is the way to start your love affair with chill-blocking this season, and this week's Steep vs. Cheap picks are guaranteed to please your inner tomboy.
If you're looking to splash some serious cash, then turn to online shopping haven Zalando, where you can snap up this fuzzy short coat from René Lezard for a meaty £400! Boasting a cosy alpaca, mohair and wool mix exterior, you'll stylishly sail through the winter months in this coat.
But, if your coat fund doesn't stretch so far, then head to every fashion girl's ultimate destination for a quick fashion fix: Topshop. Here, you'll find the equally boyish notch neck coat for £85 – a snip of the price! That's a happy wardrobe and smiley pocket, then.
Steep: René Lezard Short coat, £420, available at Zalando
Cheap: Notch neck throw on coat, £85, available at Topshop