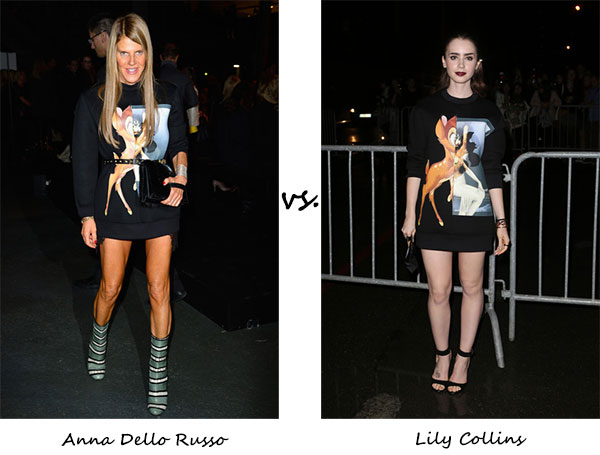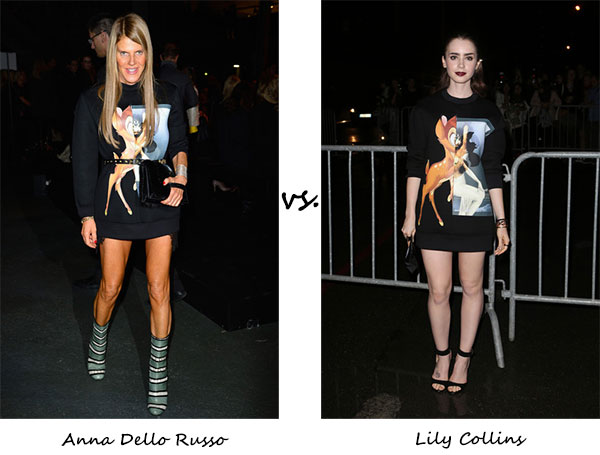 Along with 'It' bags and must-have heels, cult sweatshirts and jumpers have gained serious traction in the past months. From the Kenzo eye sweater to Brian Lichtenberg's collection of 'Homies' imprinted beanies and tops, logo mania has well and truly taken over.
And now, this week's fash-off contenders, Anna Dello Russo and Lily Collins, are also doing their bit for branding by sporting the same sell-out Givenchy Bambi print jumper – at the same event!
Attending the spring/summer 2014 Givenchy runway show in Paris, the editor famed for taking "fashion showers" was spotted outside the show venue, aptly in said sweater. Needing no introduction to the camera, Anna Dello Russo teamed hers with a waist-cinching belt, black clutch and statement ankle boots.
But, not too far away (on the opposite side of the front row, we presume), Lily Collins was also wearing the same printed sweater, albeit with a very un-ADR spin. Going for more glam goth than golden glamazon, Lily went with a sheeny vampish lip, black ankle strap sandals and matching clutch. A selection of bracelets gave the final finishing touch.
So, who wins in the battle of the Bambis? Oh, we do love you ADR, but that tan and accessory overkill just isn't working for us. Fashion shower detox, maybe? Lily, you've got this one hands down.
Agree with our style verdict? Whose look wins for you? Tell us in the comments section below!
Givenchy Bambi and female form print jumper, £853.51, available at Barneys.