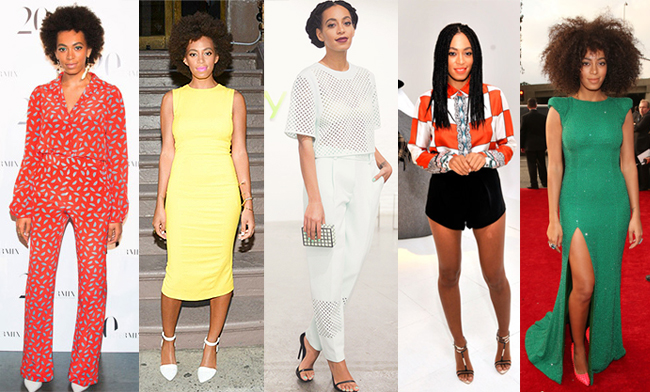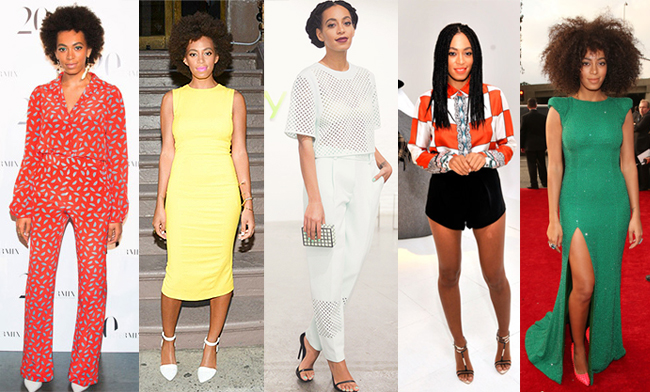 It goes without saying that Beyonce's little sis is one heck of a style maven. Trend setter, think-outside-the-sartorial-box(er) – whatever you want to call her, we are obsessed with her and her unrivalled sense of style.
She is a designer's dream, and here are a few reasons why:
1. We bet this is exactly how Diane Von Furstenberg imagined this jumpsuit being worn when she was designing it. We wouldn't change a thing about this look – the prints and colours complement Solange perfectly. If we didn't know any better we would say it was made just for her!
2. Colour but without overdoing it – that's exactly what this Sportmax yellow dress was all about. The white shoes and sugary-pink lips added even more colour to the ensemble – a winner all round!
3. Solange Knowles and bright colours and bold patterns go hand in hand, but that doesn't mean she can't do understated too. This 3.1 Phillip Lim ensemble is Solange's way of toning down, and we think she is perfection personified. We love the hair too!
4. Solange Knowles has a killer pair of legs, and she isn't afraid to show them off! The Etro spring/summer 2014 blouse was the main attraction of this look, which Solange helped emphasise even more thanks to her matching bright lippie. The hair is divine, too!
5. Want to do sexy the quirky way? Look to Solange's Grammy outfit for inspiration. The green Ralph & Russo Couture dress fit her like a glove (we adore the pink shoes she accessorised with too) and her ultra-voluminous "look at me" hair commanded the perfect amount of attention. Who else but Solange?