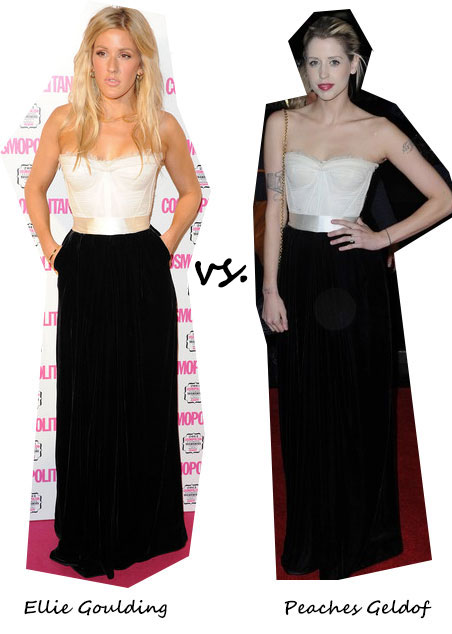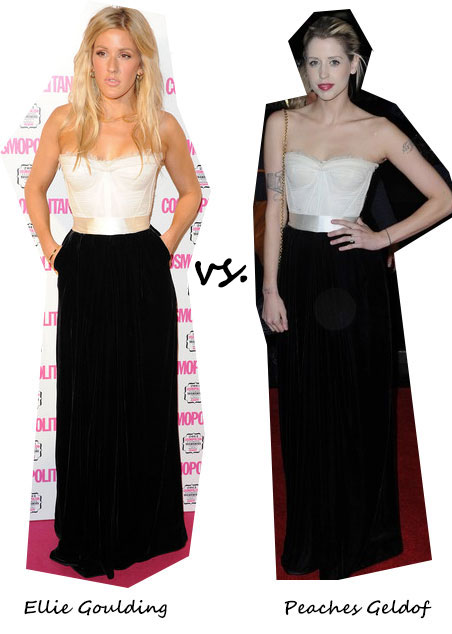 OK, you know the drill. One dress, two girls, and a whole lotta fashion bitchin'! Giving us fashion for thought this week are Ellie Goulding and Peaches Geldof, who recently stepped out in the same Dolce & Gabbana gown.
First to step into the gown was Peaches, taking to red carpet at the London premiere of The Hunger Games: Catching Fire, last month. With her scraped back into a wispy updo, a slick of red on the lips and a chain strap shoulder bag to accessorise, Peaches brings her signature causal cool to this sexy red carpet look.
But giving Peaches a run for her red carpet style was Ellie Goulding, or appeared at the Cosmopolitan Ultimate Women of the Year Awards last week, in the same gown. Opting to go with her classic look of tousled hair worn down, and very neutral makeup, Ellie kept things pretty simple, accessorising only with some small earrings.
So, whose look takes the crown? Both ladies brought their own to this gorgeous look, but, for us, Peaches wins by an few style miles! Her choice to team the look with a colourful lip was on point, and the updo does justice to the strapless bustier detail of the dress. Naturally, she brings a grittier edge to the look. Ellie looks great, too, but the simple makeup and soft blonde locks have a draining effect. We're not Starry Eyed this time, Ellie…
Agree with our fash-off verdict? Whose look wins for you?