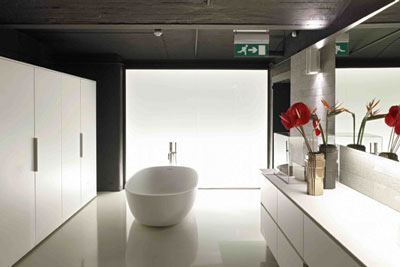 Ten years ago, guests checking into a high-end hotel might have been surprised – or even a little nervous – to see that their bedroom and bathroom had converged into a single space.
As shocking as the open plan bedroom and bathroom might have seemed just a few years ago, today it's one of the interior design world's most iconic and controversial elements.
Attracting both praise and scorn, open plan bathrooms are a natural evolution from the open plan living rooms, kitchens, and dining areas that architects and designers made commonplace over the past three decades. They blend two areas that, to most people, seemed highly separated in a stylish and surprisingly functional manner.
Just like the open plan living room and kitchen raised some eyebrows when it first entered the world of mainstream interior design, the open plan bathroom is giving appreciators of classic design their own set of concerns. From privacy to function, the design world's hottest new trend has resulted in a great deal of questions.
Chief among these is concern over privacy – after all, who wants to clean themselves in what's essentially their bedroom? Quite a few people, actually, as the majority of open plan bedrooms and bathrooms are built in new houses and apartments aimed at couples and individuals rather than large families.
Aside from privacy, designers sceptical of the open plan bedroom and bathroom are worried about function and durability. How can a dry space like the bedroom end up linked with a wet, humid place like the bathroom? Wouldn't mould and mildew give the open plan bedroom and bathroom serious practical concerns to worry about?
Again, the answer may surprise critics of the open plan bathroom. By selecting tiles or wooden flooring – such as those offered by The Tile Depot – designers can avoid the pitfalls of humidity and moisture. Rot and mildew become non-issues with the right materials and an efficient ventilation system.
Whether the open plan bedroom and bathroom will live on as a timeless element of interior design – much like the open plan living area – or go down in history as a fad that, like popcorn ceilings and sunken living rooms, is best forgotten is unknown.
However, given its massive popularity in hotels, houses, and modern apartments, it seems likely that the open plan bedroom and bathroom arrangement will be here to stay for at least a few more iconic years.
[Image]