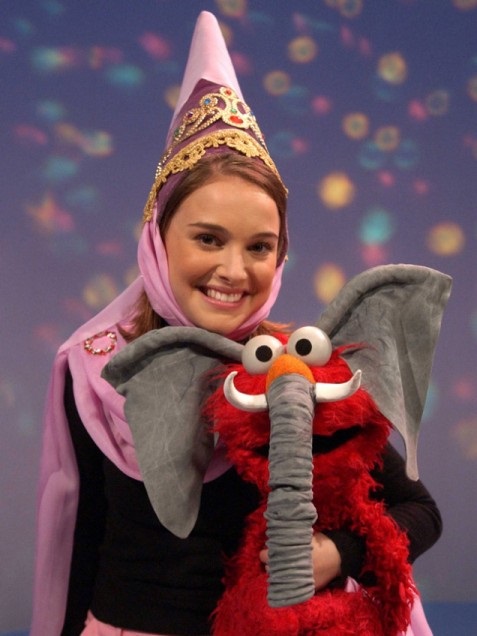 As First Lady of the United States, it's safe to say Michelle Obama has some impressive predecessors to live up to. From Dolly Madison to Eleanor Roosevelt and of course, Jackie Kennedy, there's always pressure on the President's wife to carve out her own niche in history. Michelle's done a fantastic job so far of winning people over to causes close to her heart, including childhood obesity and military families – helped by her impeccable taste in smart ladies jackets and fitted dresses.
However, all that pales in comparison to the shoes Mrs Obama has just stepped into – celebrity guest on Sesame Street. Blending pre-school entertainment with intelligent pop culture comedy for mums and dads, the series has been running for an amazing 44 years, in which time it has welcomed the great and good from all walks of life. Here are some previous stars who set the bar particularly high.
Natalie Portman, 2003
Natalie Portman threw herself into this 2003 guest spot with adorable gusto, joining Elmo for a performance of the inexplicably bizarre 'The Princess And The Elephant'. Initially typecast as 'the Princess,' she jumps into an elephant costume in what might be an attempt at steering little girls away from their pretty-in-pink Disney obsession, but could also just have been a chance to practise her trumpeting.
Johnny Cash, 1973
If anyone was going to win over perennially anti-social bin-dweller Oscar the Grouch, it would be Arkansas's professionally glum country music star Johnny Cash, singing the story of 'Nasty Dan'. The 'Man In Black' notably wasn't for his 1973 appearance on the show – although his famous stage attire was worn in honour of 'the poor and beaten down/living in the hungry, hopeless side of town,' poverty doesn't exist in the Sesame Street utopia, so he went for a lovely denim shirt instead.
Stevie Wonder, 1973
Much to the delight of the assembled teenyboppers, Stevie Wonder brought his enormous band to the Street to perform the previous year's stratospherically successful 'Superstition' for the assembled kids and puppets. He then proceeded to burst Grover's ear-drums during an impromptu singing lesson.
James Blunt, 2007
Two years after his inescapable daytime radio dirge 'You're Beautiful' went global, the former Army Captain gamely re-wrote it as a heartbroken lament about his missing triangle, plaintively delivering it to Telly Monster and the kids at home during a 2007 episode of the Street.
Little Richard, 1993
The rock n' roll pioneer may well have wondered where his career had taken him when he ended up, fully clothed, in a mock-up bath tub, with a piano, singing a Tutti Frutti-aping ode to his favourite rubber ducky. At very least, it proved he doesn't take himself too seriously.
Robert de Niro, 2001
Watching the legendary actor deadpan his way through an acting master class with the lovable but possibly not Oscar-contending Elmo has to be a highlight of the series. His plain and unpretentious definition of what an actor is – 'someone who uses his imagination to pretend he's someone else' – might put a few drama teachers out of work, but the power of his method acting is really quite something to behold. Watch as, using only the power of his mind, de Niro transforms into a dog, a cabbage, and a gravelly-voiced Elmo doppelganger.