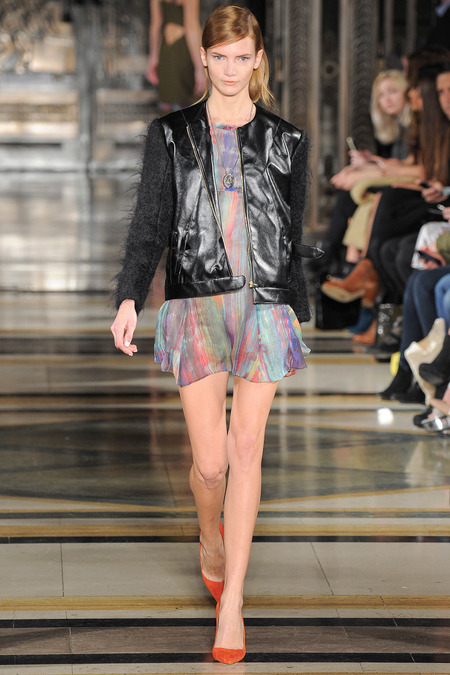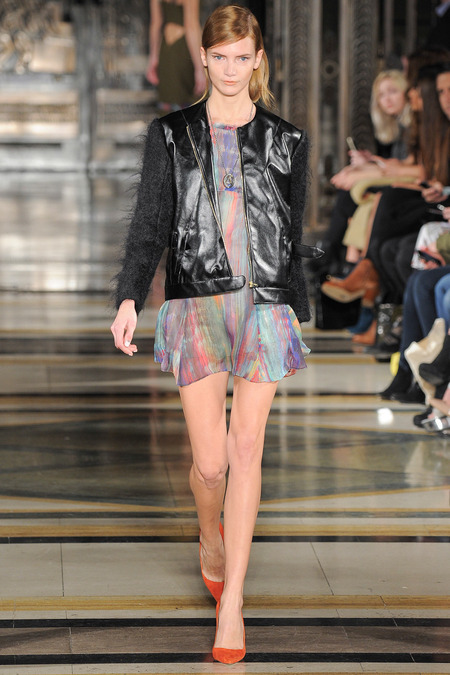 New York Fashion Week got us officially geared up for the autumn/winter 2014 trends, so we weren't going to let a little (ok a big, inconvenient and suede-shoe-destroying but we're fine, we're over it) thing like rain stop us from flocking to Somerset House along with the equally drenched fash-pack to see what the first day of London Fashion Week had to offer.
Felder Felder, DAKS, Eudon Choi, Bora Aksu and J JS Lee all showcased their new season creations to the fashionable London crowds, and didn't seem phased by the pressure to make sure their collections matched the standard of those in the Big Apple.
Tommy Hilfiger inspired us to go on a snowy, winter hike, and Jackie Lee has inspired us to go camping thanks to the new autumn/winter 2014  pieces we saw early this morning. There was an abundance of houndstooth and check print that adorned the casual, cool, practical but on-trend pieces,  and the colour palette was kept understated. A far cry from her feminine, all-pink collection from last season, but isn't versatility and the ability to create the shock factor what a good fashion designer is? We rest our case; well done J JS Lee!
Eudon Choi got us all into the party spirit/gave us that Friday feeling thanks to the Rolling Stones soundtrack. Sex and drugs are optional, but rock and roll was essential! Legendary music choices aside, we saw lots of tartan on the catwalk (we told you, didn't we?) although it came in a colder, bluer hue than the traditional red one we're used to. The collection as a whole was a refined take on 60s fashion – and that's something we got from the cigarette trousers, flared cuffs and print-tastic knitwear pieces as well as the aforementioned soundtrack. Oh, and you don't use the Stones as inspiration for your show without reintroducing thick coats of eyeliner; you heard it here first, liner is back with a thick, black, Alexa Chung style vengeance. And we couldn't be happier about it!
Diane von Furstenberg celebrated her anniversary this season but she wasn't the only one to reach an exciting milestone, as DAKS celebrated its 120th birthday. Not bad going, eh? The autumn/winter 2014 show was a little retrospective of what the bran d has achieved over the years – all the best bits, anyway – so we were left pretty happy with the varied and versatile pieces that came out. The double breasted military inspired coat was a particular favourite of ours, and we can't help but imagine Cheryl Cole in it in one of her music videos in the near future. Classic, contemporary, wearable, versatile and memorable pieces. We like!
Felder Felder is always one of our fashion week faves, and the girls didn't let us down for their autumn/winter 2014 collection. The pieces were all about rebellion and attitude – we didn't even need to look at the show notes which said the collection was for the girl who had grown up – to get that message. Fierce, fabulous, and – dare we say it –a little bit flirty. Well you can't have sheer and sometimes backless backs, cropped tops and leather jackets without being a little bit risqué and naughty, can you? The Felder Felder girl is confident and knows what she wants this season!
We really needed the Bora Aksu show;  we were as soaked as soaked can be and we were one red bull away from spontaneously combusting but the Turkish designer's collection definitely cheered us up and reminded us why we love LFW – and fashion in general – so much. If you thought you were going to see romantic dresses float down the runway this Valentine's Day then we'd hate to break it to you but Bora Aksu went in a totally different direction this season. The feminine aesthetic that we associate with the designer was still very much apparent, but the pieces were juxtaposed with tougher features; leather detailing to add some edge and vibrant reds to command attention.