No rest for the wicked – or stylish – Day 4 of London Fashion Week was just as jam-packed and exciting as ever; and we were there to take in all the action! Where else would we be on a day when Burberry, David Koma, Michael van der Ham, Tom Ford and Roksanda Ilincic are showcasing their autumn/winter 2014 collections, eh?
Burberry AW14
One of the highlights of the day – and the five day event as a whole – was the Burberry Prorsum autumn/winter 2014 show. Luckily it was a dry affair (not that a little or a lot of rain would have stopped us) and the front row was as star-studded as ever. Bradley Cooper, Harry Styles, Sky Ferreira, Anna Wintour and more celebs graced the front row to view the collection first hand – and we think they would have been pretty chuffed with what they saw.
If there was one thing we took away from the show, It was that we need to go scarf shopping asap. Scarves as you know them will no longer suffice, as it's all about the oversized ones that can double up as a blanket. Or you could just buy a blanket with your initials on, as they too made it down the Burberry runway in the epic finale.
Burberry definitely didn't do things by halves in the music department either, as we were treated to a stellar performance by the one and only Paloma Faith. Pipe envy! Overall, Burberry presented a soft, casual, comfortable and warm collection which Christopher Bailey said was inspired by the Charleston Farmhouse in Sussex of the Bloomsbury Group. And if you head to the brand's official website right now you can preorder the collection and ensure that you're one of the first people to own it!
Tom Ford AW14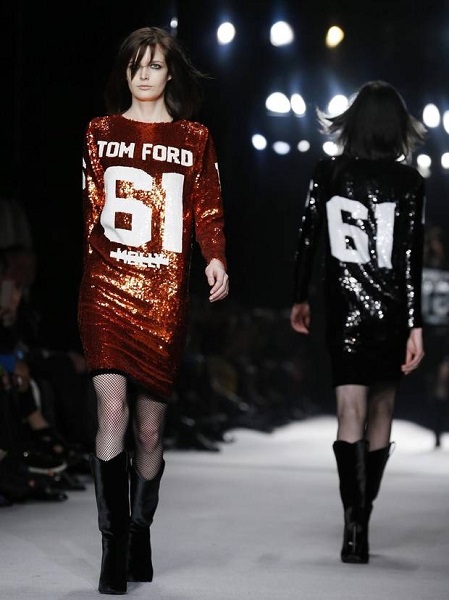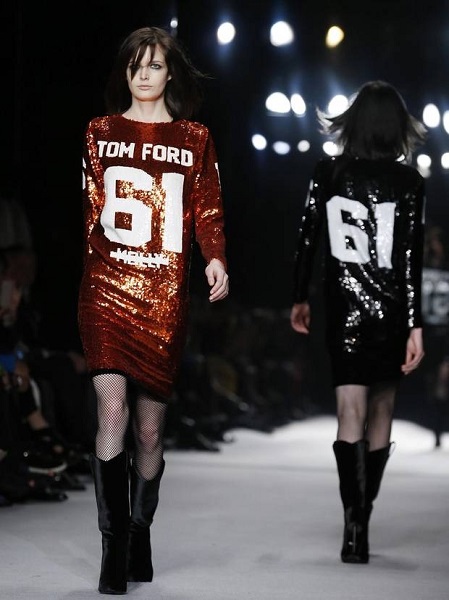 Elsewhere in London, Tom Ford presented his autumn/winter 2014 collection which was a far cry from last season's high glamour affair. Even though it was evident that the designer was going for a more casual cool aesthetic with his new collection though, he still managed to incorporate the glam and overall wow factor into his pieces, which we guess is what makes his collections always so covetable.
There was a definitive nod to the sixties in the collection thanks to the leopard print, go-go boots and mod-inspired pieces, and the "61" which was emblazoned onto some of the garments (the designer's year of birth!) also helped us come to that conclusion.
David Koma AW14
David Koma's autumn/winter 2014 collection was once again all about the attention to detail and appreciating the finer things in life and fashion. Although we are used to seeing tight-fitting silhouettes from the designer who has dressed the likes of Beyonce and Cheryl Cole (both ladies who have bodies that definitely need to be shown off and appreciated in all their glory) he went a little oversized this season, fitting in with the majority of the New York Fashion Week and London Fashion Week collections we have seen so far.
The designer was reportedly inspired by the Renaissance, which is more than evident in the delicate and intricate corsetry and sixteenth century references. Cinched in waists are still in according to David Koma!
Michael van der Ham AW14
The bright, colourful and vintage invitation for the Michael van der Ham show was pretty exciting – we knew we were getting a sixties inspired collection and we certainly weren't disappointed.
Oranges, yellows, and blues pretty much dominated the catwalk in terms of colour palette, and that covers everything from the garments themselves to the tights covering the models' legs. Yep, coloured tights are back and better than ever! The chic pencil skirt and cashmere jumper combo is going to be big when the weather starts to get chilly is Michael van der Ham has anything to say about it; the same goes for 3D flowers and sparkles!
An abundance of crystals dominated pretty much every single piece of clothing that made its way down the runway, which is something we are more than happy to get on board with for the new season. We're even happy to start early!
Roksanda Ilincic AW14
If you thought Roksanda Ilincic would have had a lot on her plate what with the opening of her new London store and her new collection might have suffered as a consequence, then you'd be wrong as we think her autumn/winter 2014 collection might just be one of her greatest. Subtle, sleek, and memorable with bold shapes and patchwork detailing. The pieces came in shades of burgundy, navy blue and beige – sometimes all together!
We think the hair needs to get a mention too; say goodbye to spending hours with the straighteners or curling tongs as messy ponytails are back with a vengeance. If Roksanda says it's alright…
[Image c/o Burberry]
[Tom Ford Image]