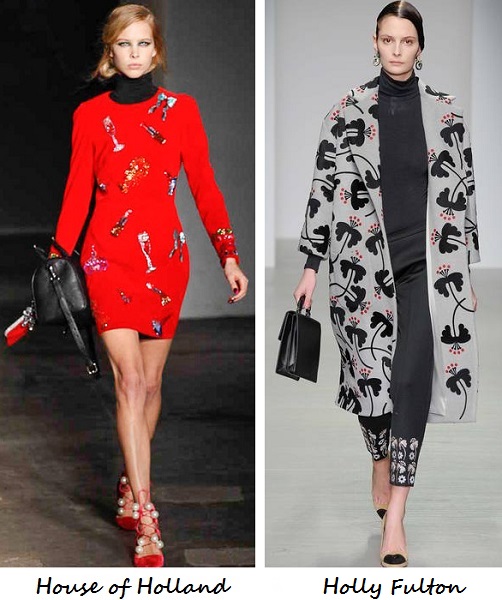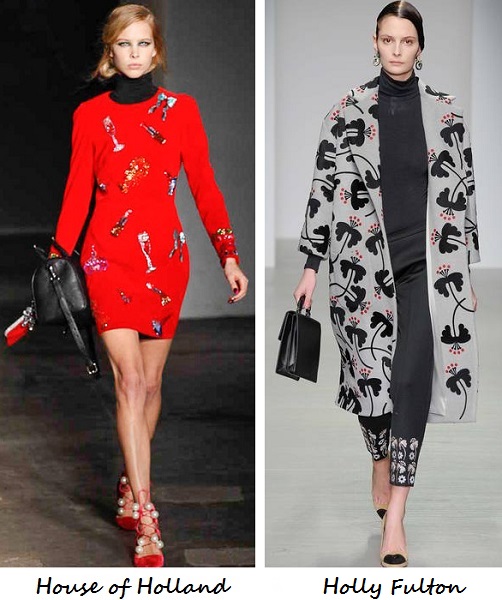 Braving the gusty elements, Team MFL trekked to Somerset House (and beyond) for day two of London Fashion Week fashtivities. Well, given today's stellar schedule, cosying up indoors and living vicariously through Style.com just wasn't an option!
Winter work wear woes went straight out the window at Holly Fulton, this morning, as the ideal "working girl" made her way down the runway. Etching the collection purely from her experience as a working woman – but one with a head for serious, workable fashion – Fulton gave us masculine coats imprinted with stunning motifs; sheath dresses and fluid pencil skirts featuring kookily enlarged mobile phone bearing hand motifs – avec perfecto manicured nails, of course. A nod to the "corporate cog" came courtesy of a glittery knit printed with the aforementioned  component, while mini briefcases and stacked bangles alluded to Fulton's ability to create magic with her hands, literally.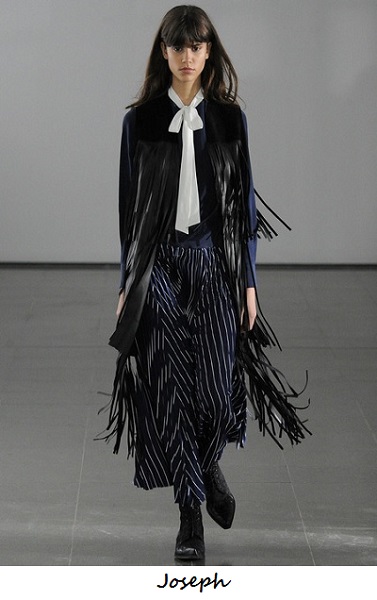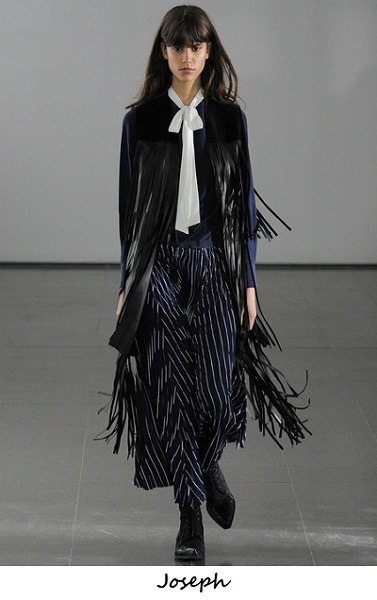 Effortlessly moving from a black to grey palette, Joseph is the go-to label for those channelling fashion's new comfort-led direction. The autumn/winter 2014 presentation promised chill-proof staples with that rooted for masculine allure. Long-line, voluminous knits sat atop perfectly tailored pants, while the sharpness of a suit blazer was tempered with pleated skirts, pussy-bow blouses and touches of mid-Western fringing sliced in black leather. A coordinating trio of peg leg pants, oversize knit and beanie hat broke away from the neutral colour trail, but otherwise, this collection is an easy- goers dream come true.
Possibly the dreamiest of designers when it comes to this side of the pond; this season, Emilia Wickstead reminded us of those dark, wintry nights we refuse to embrace with ease. The show notes referenced "Film Noir", and we got exactly that: a clear vision of what winter's dangerously stylish woman will look like, come September. From a body-sweeping, collared leather coat to the pairing of subtle blue lace with stark black socks in metallic sandals, all the elements of a natural-born femme fatale were present. Waists were sharply cinched, with a focus on an elongated bottom half. The prize-scooping piece for us, however, had to be the black lace-on-peach dress, flared to perfection, making us want to vamp it up for winter on all levels.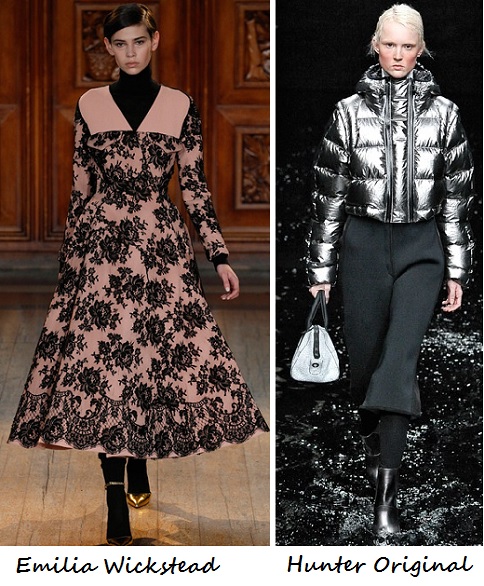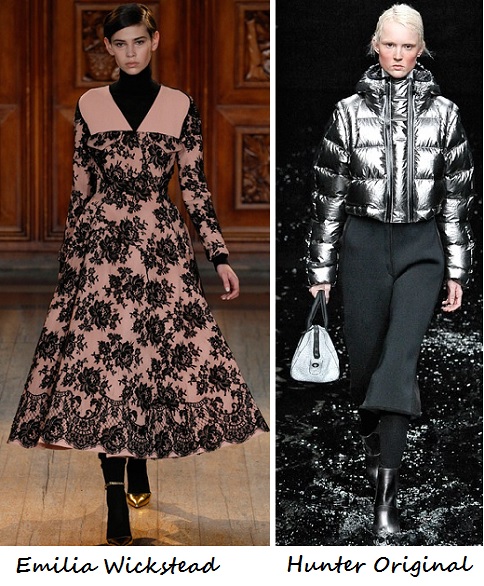 Hunter Original kicked off its first ever fashion month presentation with the most stellar line-up – and we're not talking about the collection! Anna Wintour sat front row with the beautifully radiant Arizona Muse, while magician Dynamo made models magically disappear; and model Suki Waterhouse made her autumn/winter 2014 debut at the show. Moving on from galoshes, the British brand excelled itself, by merging practicality with the punchiest of primary shades. While male modes sported duffle coats with enlarged pocket flaps in moss green and cobalt blue, and beanies that merged into balaclava-style eye masks; the girls donned caped macs, cropped, metallic puffer jackets and knitwear with thumb slits. And the footwear of choice, in case you hadn't quite guessed? The trusty Hunter Wellington, of course! Well done, Alasdhair Willis aka Mr. Stella McCartney.
Injecting an abundance of fun and colour into every season, House of Holland has mastered capturing the essence of the London girl's dress code, no end. The minute we received the show invite – a large table napkin stained with lipstick kisses and spilt wine – we knew designer Henry Holland was set to excite. Dubbed "debauched debutantes", the collection goes back to Holland's magazine roots: "It started with my obsession with magazines. We went to the British Library and got all the issues of Tatler from 1980 to 1992," he told Metro, of the inspiration behind his latest collection. Referencing rich girls gone astray, Peter Pan collar dresses, shoulder wraps, elegant blouses and ladylike coats were all given a 'Holland-over', thanks to pom-poms and a trippy colour palette of fizzy pink, blue, orange and metallic green. Unexpected frill detailing did away with any aristocratic traits, while a power-shouldered red mini dress featuring sequin champagne flutes and lipsticks had us reliving Eighties dressing without the cringe factor.
[Images: Style.com; Hunter Original]