Last Updated on 20th February 2014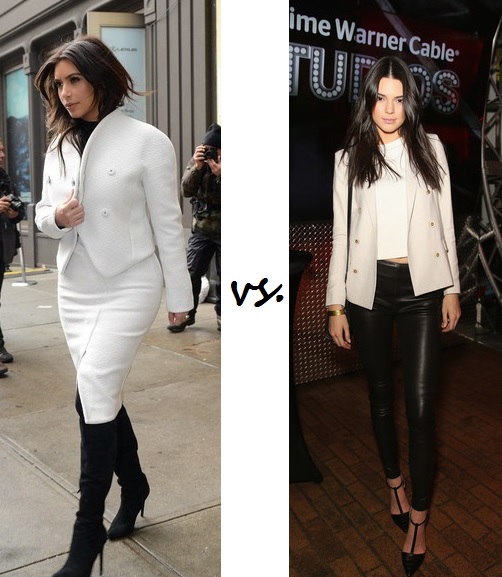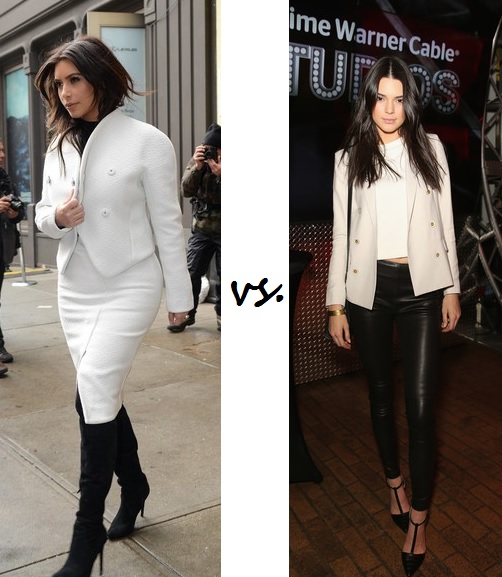 "To be in Vogue has to mean something," stated Anna Wintour, and, well, she's speaking the biblical truth. Campaigning for this prestigious right are two siblings from the world's most talked about family/klan, depending on how you prefer to address them.
Kim Kardashian – the queen of Céline separates and Tom Ford pieces so tight, they create curves ever she didn't know existed– has kept the fashion set (and herself) guessing whether the coveted prize of cover girl shall be hers (let's not forget, she's already been L'uomo-d).
From a lobbying partner, whom eventually got his beau to make an unforgettable entrance at the 2013 MET Gala – an event she had previously been banned from by Her Majesty Anna Wintour – to befriending Carine Roitfeld and scoring couture pieces (and front row seats) in Paris, earlier this year; Kim isn't playing games, she's ruddy serious.
But then again, so is her twee-faced, doe-eyed, long-limbed sibling, Kendall Jenner. The upcoming model has been scoring some fashion hot seats of late. From a nipple-on-show performance at the Marc Jacobs autumn/winter 2014 show to walking for Giles in the Big Smoke, sitting shoulder-to-shoulder with Anna Wintour at the Topshop Unique show and posing for a certified selfie with Delevingne and gang backstage; junior Jenner's sure as hell making her mark in notable fashion circles.  And, all sans sexual controversies, slip-ups and stunts.
So, who will be victorious in the race to win Wintour's (steely) heart, and be the first to grace the glossy covers of the world's most highly regarded fashion tome? Below, our strongest arguments for putting either sibling on the cover of American Vogue- or both, if Wintour's feeling generous…
Why Kim Kardashian?
Luxury-appreciation factor: Kim sure knows the wow factor value of pairing the luxurious, most expensive of wardrobe pieces together – with a little direction from Kanye, of course. Is she set to become the new VB, with her renewed and refined love of fashion in its finest form?
Fashion-loving beau: He says he's the almighty inventor of leather pants, and AW holds him in high regard, too. Did someone say "win-win situation?"
Stylistically-inclined kid: Erm, have you seen North West's wardrobe? Enough to throw Kimye oFf their respective thrones (geddit?), this little beauty is already rocking Balenciaga better than Blue Ivy EVER will. And, she even has the privilege of being nickname 'Buba' by the Phoebe Philo. Who wouldn't want to put her mother on a Vogue cover?
Slowly made her place in the fashion world: Although the change was a drastic one; since hooking up with Kanye, Kim has gradually let a more refined version of her self shine through. Paring things back, toning down her hair and makeup and preferring a camera-shy, demure approach to the paps has landed her in every important fashion person's good books.
Why Kendall Jenner?
Archetypal model: Erm, hello, do you not see her piercingly runway-perfect existence? She has Vogue written all over that L.A. sun kissed body.
Not just a pretty face – ridiculously famous, too: Well, it does help. Humongous social media following and different surname aside, Kendall hails from the almighty, power-wielding, sales-driving, endorsement-devouring Kardashian (k)clan. If this won't push copies off the newsstand, we don't know what will. Kar-ching, yah?
In with the cool gang: Well, whoever gets to cement their Cara BFF status with a selfie is nothing but in with the cool gang. Or, it could be that this dark (haired) horse is bent on becoming America's answer to Cara D? Now besties with W magazine's Edward Enniful and the inimitable Katie Grand (who let Kendall run riot with Love's Instagram), this newbie is goin' places.
Uncontroversial background: Sadly, it's an unavoidable facet of a discussion involving a Kardashian. Kim's induction into the world of fame came courtesy of a steamy moment, when someone (her lover) forgot to press pause (on purpose) and decided to flex his home video skills. Luckily, Kendall, being the savvy young bug she is, has steered clear (thanks to momager, Kris) of such controversies, only choosing to hook up with the most revered One Directioner of the lot. Way to go, KJ.
Kim vs. Kendall: Who do you think it will be? And more importantly, will Kim's derriere be granted prime position on the cover? Answers below, please!
[Images: Zimbio]