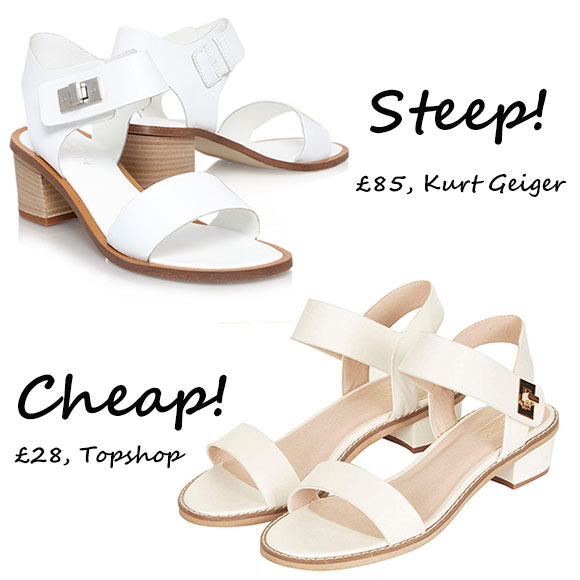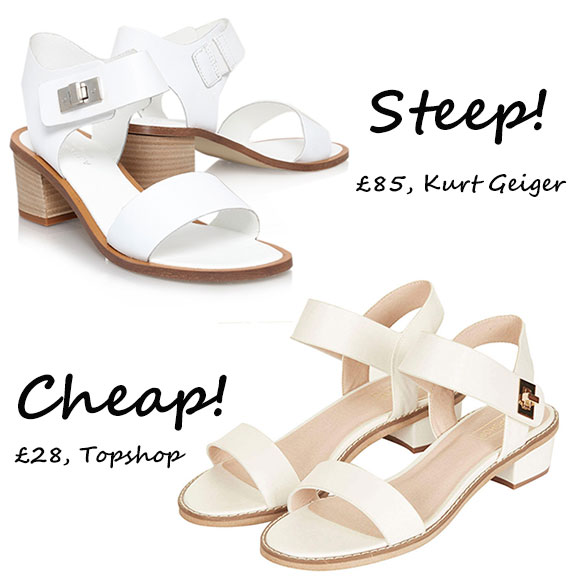 Sandals are a case for the best pedicures, and just a damn good excuse to ban all socks-and-boots pairings from our wardrobes. You can't fool us, sky! This week, tempting us to twinkle-toe our way into a culotte and cropped top ensemble are these pretty heeled sandals. And guess what? Both the steep and cheap versions are high street finds!
If you're guilty (well, actually, let's call it ahead of time) of fast forwarding your wardrobe, already pinching summer staples and mixing them in with your Blighty-proof style; we don't blame you. And, when you land your peepers on these white-washed sandals, with just the right amount of polished detailed to take them from under a smart office look to a summer cocktail soirée, it'll be tough to resist whipping the plastic out.
Making us dream up minimal, summery outfits is the Kiss sandal from high street favourite, Kurt Geiger. The two-strap sandal features a sturdy block heel and turn lock ankle fastening, and screams out to be paired with an A-line midi skirt in the softest of pastel lilacs.
Tempted? Shop the steep option right here (we promise it won't really break the bank): Carvela Kurt Geiger Kiss sandals, £85.
But, if forking out £15 short of your fortnightly travel allowance on hardly weatherproof shoes leaves you feeling a little nervous, we've tracked down a much more cost effective option. Take your boot-clad self to Topshop, and pick up an equally fashion status-boosting style for a fraction of the price. Sorted.
Go on, you know they're meant for your shoe collection: Topshop Heartbreaker heeled sandals, £28.