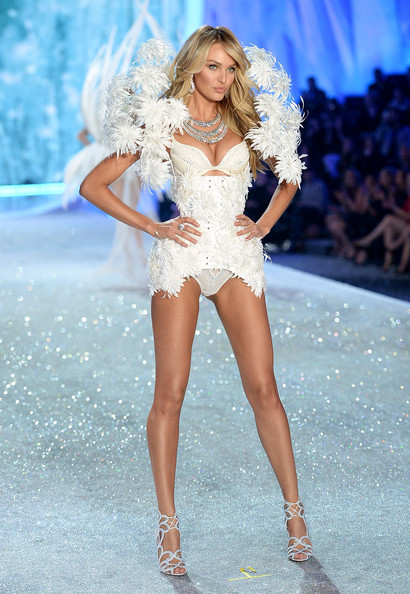 We've heard countless stories about how Adriana Lima and her Victoria's Secret Angel pals stick to a strict liquid diet before the annual Victoria's Secret Fashion Show, but South African beauty Candice Swanepoel isn't one of them.
The 25-year-old VS Angel, who got the honour of wearing the coveted Fantasy bra last year, apparently loads up on meat before the show so she can be bigger and feel more womanly…
"Last year I had to take a week off, because I get really nervous and all the muscle that I've built up I lose it really quickly if I get stressed out," she said.
"So I took my trainer to Brazil where I can eat a lot of meat because I like to be a little bigger for the show, just to feel sexier and more womanly.
"I have a furious metabolism, especially when I travel so much. I can't really do too much cardio or that sort of thing."
Most women – us included – would kill for a metabolism like Candice's. Not fair, is it?
Don't forget, the Victoria's Secret Fashion show is coming to London later this year, which means we can admire Candice's beauty at a much closer distance!