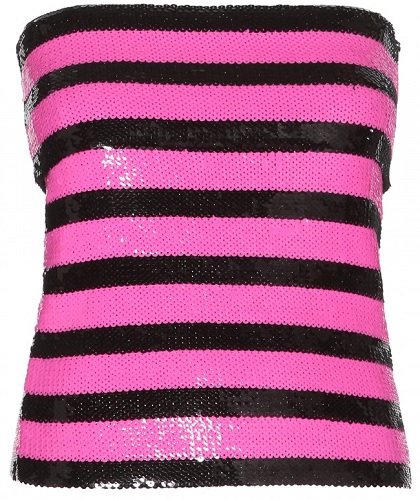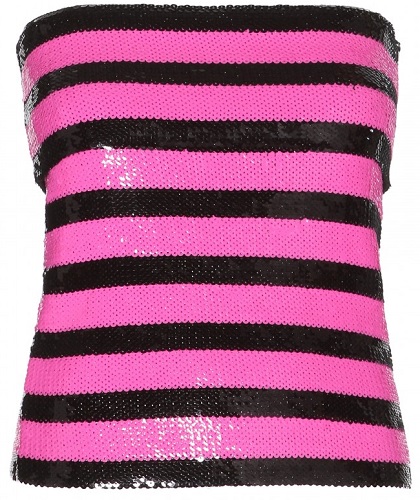 We love it because…
It's the perfect party top; sequins, strapless and Saint Laurent! Touching on Hedi Slimane's love for all things grunge quite nicely, we like that it's not too overpowering, yet strong enough to make a statement.
Worn under a tux jacket with tailored pants and heels, this tube top makes the ideal showpiece for your next night out – no need to accessorise.
We're saying YAY to…
Colour: The bubblegum pin and oil-black shades complement each other perfectly—the black almost tempers the pink's brightness. If you freak out on hearing 'bold colours' then this option is any easy way to introduce some colour into your evening wardrobe.
Easy-to-style: Wear it with a tailored suit or take inspiration from Hedi Slimane's runway styling, and opt to pair it with a clashing mini skirt and cropped jacket for the ultimate grunge girl-gone-partying look.
 And NAY to…
Price: Well, anything to come out of Mr.Slimane's atelier was never going to be cheap! This tube top will set you back a whopping £1,210, so really think long and hard about next month's rent before whipping out the credit card for this one!
One-wear-then-despair: Ah, yes. Familiar words, right? Well, consider how well this top fits with your overall style, and the contents of your wardrobe, before clicking it home!
 Saint Laurent sequinned tube top, £1,210, available at My Theresa.