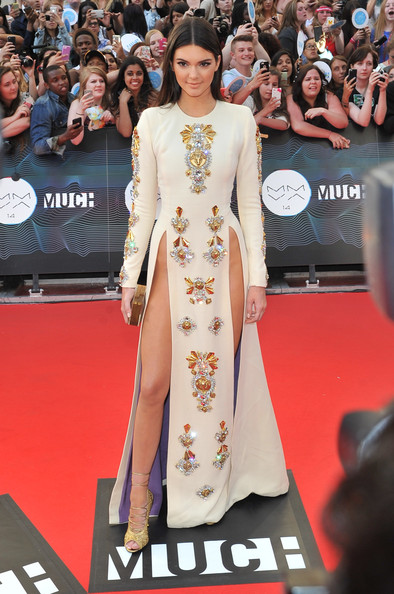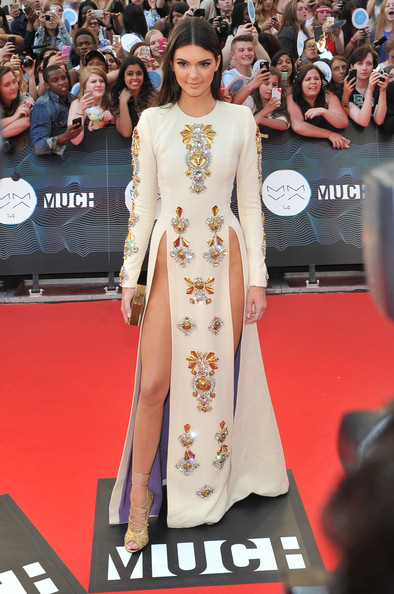 We're going to start the week with a bit of a controversial celeb style feature, thanks to Kendall Jenner and a very risqué Fausto Puglisi dress.
Kim Kardashian's little half-sister attended the MuchMusic Video Awards in Toronto, Canada last night and decided to wear a very attention-grabbing double-slit dress from the Fausto Puglisi autumn/winter 2013 collection for her red carpet arrival. But whether it was the right attention is a different matter altogether…
Some might argue that the dress, which featured waist-high slits on both sides and make Angelina Jolie's Atelier Versace Oscars 2012 dress look tame in comparison, was a little too much for the 18-year-old. Others however, might see it as a bold and brave fashion statement from a successful model. Which camp are you in?
We definitely think she rocked the dress just as well as the model from the designer's lookbook thanks to her never-ending legs and flawless hair and make-up, but don't think it was the right thing to wear for the occasion. Put her and that dress in a fashion glossy editorial page on the other hand…