Last Updated on 16th June 2014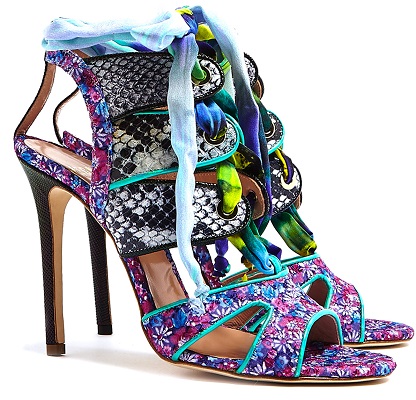 We love these because…
Well, as much of a hassle they can be to slip into, lace-up sandals always look sexy. With Alaïa's leg-lengthening- and uber pricey – style being favoured by the A-listers, fashion lovers have had to resort to finding pocket-friendly alternatives.
So, guess what? We've only gone and tracked down the perfect pair of lace-up heels for summer: enter the MSGM multi snake sandals (£270.83). Yes, you can thank us later.
Want/need a pair? Read on…
It's a YAY for…
Price: Sitting pretty at a hardly pocket emptying £270.83, makes these sandals even more difficult to resist! If you're one for sky-skimming heel heights, striking colours and a whole lotta ribbon, then you're in for a treat!
Colour: If you're wardrobe screams black but you like shaking things up with eye-catching accessories, then these heels are the ideal investment. Combining two major spring/summer trends, vibrant florals and exotic prints, pulled together with a tie-dye ribbon; they're like a carnival on your feet – perfect for livening up a dark evening outfit.
And a NAY for.
One-wear piece: As much as we love the riot of colours and print, ask yourself this: will I repeat-wear these beauties, or are they a one-hit wonder? Now, repeat this question until you get an (honest) answer.
Heel height: Unless you're a professional heel wearer with a stash of foot-numbing products at the ready, these heels won't make for an easy, breezy walk. No. At 11.5cm (4.5 inches), you'll be towering above your friends, not to mention feeling the burn (in the name of fashion, obvs.)
MSGM multi snake sandals, £270.83, available at My-Wardrobe.