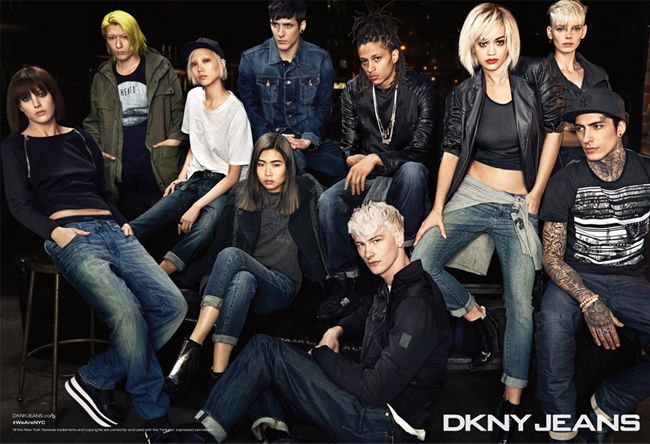 Jeans are definitely having a moment right now – this week in particular.
A few days ago, we revealed that Kate Upton was the new face of Express jeans, while Katie Holmes sported some seriously stylish double denim on the Glamour US August issue that would make an early naughties Britney and Justin jealous. And now to put the cherry right on top of the denim cake, Rita Ora has appeared in the ad campaign for DKNY Jeans. What do you think?
This is a pretty interesting ad campaign actually, and not just because Rita looks flawless. Not only does it feature one of the most famous and relevant female singers, but the other ladies posing for the camera are real life New Yorkers. Pretty cool right?
We know how Donna Karan likes authenticity with her eponymous label and the DKNY line, so the news that she chose fresh Big Apple residents for the photoshoot doesn't surprise us in the slightest.
The models in question are, in no particular order: A$AP ILLZ, Eliza Cummings, Soo Joo Park, Dorith Mous, Daniel Bamdad, Ben Jarvis, Melissa Burns, Masha Korchagina,Brandee Brown, Mike Bailey Gates, Akito Nara, Jon Tuite, Carlos Santolalla, and May Hong. Oh and that fierce looking blonde one towards the right is someone who goes by the name of Rita Ora.
We love this campaign; well played, DK!