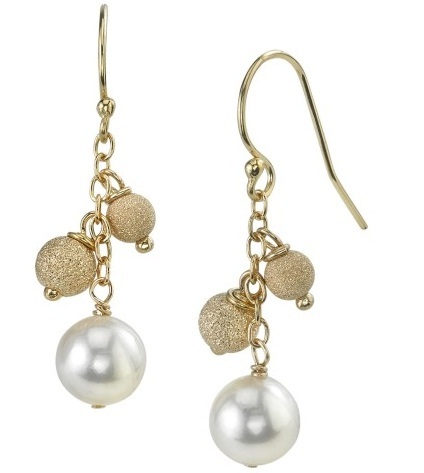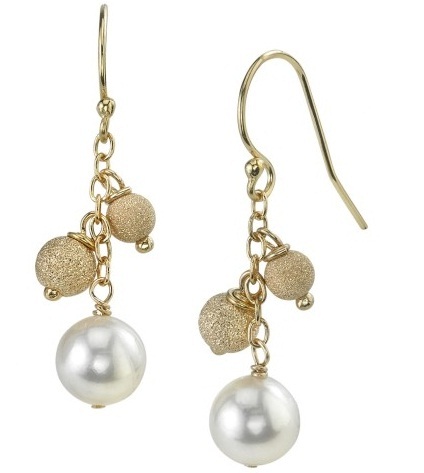 Are you a husband trying desperately to make up for last year? Or maybe you're a lady looking for a sexy piece of jewelry to accessorize a killer dinner dress. Whatever reasons compelled you to start shopping for anniversary gifts, pearls are a time-honored way of expressing appreciation to the ones you love. Here are just five necklaces that will turn any dull day into an occasion to remember.
1: 5.0-5.5mm Japanese Akoya White Pearl Necklace
Round and perfectly white, Akoya pearls are what most people think of when they envision an oyster revealing its treasure. If your wife is a fan of the classics, she'll adore this timeless string of pearls that will match anything in her closet. She'll also be pleased to know that Akoya pearls enjoy great longevity, so her necklace can eventually become a heirloom piece for her daughter.
2: 10-12mm Golden South Sea Pearl Necklace
A necklace made of gold is sure to get everyone talking, so invest in these South Sea pearls all the way from the moors of the Pacific. The biggest pieces are 12mm, large enough to be noticed but not big enough to cause discomfort, while the smallest round out the necklace at 10mm.
3: 9-11mm Baroque Tahitian South Sea Pearl Necklace
Tahitian pearls are known for their luminescence, and you'll definitely draw every eye in the room when you wear this necklace made of pure black pearls. They're the polar opposite of the small, white pearls that made up traditional Akoyas, so if you'd like to send a message at your next gathering, Tahitian pearls are the way to go.
4: White Freshwater Pearl Double Strand Necklace
When one strand just isn't enough, this double-stranded pearl necklace will offer twice the beauty. Silk threads keep all the bobbles in place, and the gleaming white has overtones only seen in direct sunlight. For a gift that keeps on giving, you won't want to pass up a double strand of freshwater pearls.
5: 7-8mm Multicolor Freshwater Pearl Necklace in 14K Gold
Looking for something a little different? These multicolored pearls come in pink, silver, ivory and a dash of coral, offering a bold and eye-popping alternative to necklaces of a single color. They also come double-knotted on a chain of 14K gold, making them a rich and worthwhile addition to any woman's jewelry stand.
Whether you're shopping for her or shopping for yourself, these are just five pearl necklaces that will make you say "I do" all over again. Throw caution to the wind this anniversary with something from National Pearl or other jewelers.