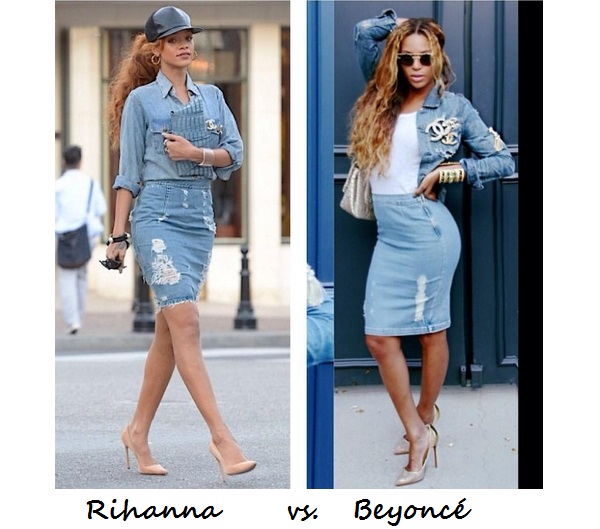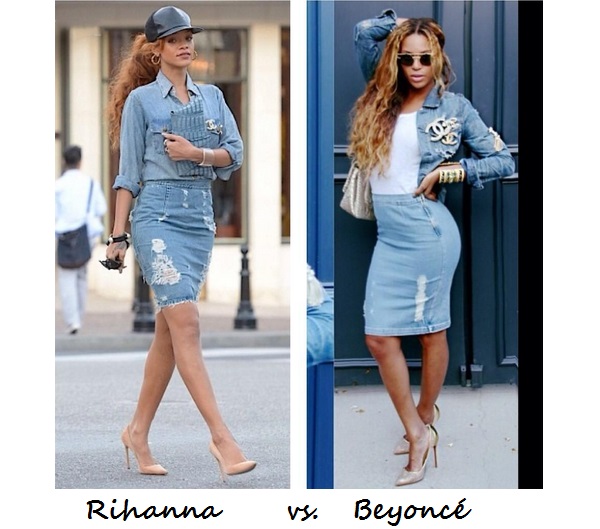 Both R&B Queens, huge fashion icons, and most importantly both fabulous; this one is a toughie. We don't know about you but we're not a massive fan of the Denim trend, let alone full denim, yet of course, both RiRi and Beyonce show it's possible for them to wear any trend and nail it.
Let's start with RiRi; the singer was spotted in Beverly Hills with her mother on a shopping spree. Not only is her outfit cool but casual, her hair even while tied up and practical oozes laid back beach glamour.
On the other side is Beyonce, one half of music's biggest ever power couple (sorry Britney and JT that double denim catwalk combo was just catastrophic) not only is she a music Queen (amongst other things) but she also helps rule the fashion world, and she is killing it in double denim.
Although she and partner Jay Z have been battling rumours of marriage problems, she shows the world that nothing will stop her from dominating the style world along with RiRi which is what makes this 'who wore it better' edition a hard one to decide. Unlike Rihanna however, Beyonce wasn't being snapped out and about. This picture was posted on her Instagram and official website accompanied with the hashtag '#mylife' – a devotion to Blue Ivy maybe?
One thing they both did which distinguished them both from the crowd was accessorize. Rihanna chose a leather cap to add a bit of her signature bad girl edge to the ensemble, along with a denim Juliette Jake Wraparound Clutch which complimented the outfit perfectly, and then finished off the outfit with some sleek nude heels. Beyonce on the other hand opted for a pair of bang on trend Cazal round framed black tinted sunglasses, Christian Louboutin Foillies Resille 120mm Pumps and a snakeskin bag.
For us, this is definitely too hard to decide, especially between music and fashion royalty. What do you think? Let us know below.